St Peter's Brewery has launched The Original Stormtrooper: two new beers designed to celebrate Disney's Star Wars film franchise.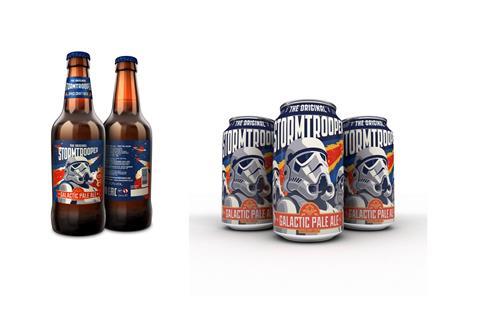 Officially licensed from Shepperton Design Studios and prop-maker Andrew Ainsworth, the Galactic Pale Ale and Lightspeed Pilsner both have an abv of 4.2% and come in 330ml cans or 500ml bottles (rrp £2.30 and rrp £2.90 respectively).
The pale ale made with citrus flavours and features aromas of grapefruit, pine and herbs, while the new lager is made using pilsner malt and hints of sweetcorn, citrus, resin and stone fruit hop aromas.
The stylised Stormtrooper image, which adorns the new canned and bottled Stormtrooper beers, dates back to 1976 when prop maker, Andrew Ainsworth of Shepperton Design Studios, created the original stormtrooper helmets and armour for the first Star Wars movie. The entire range is available to convenience stores now.