Suffolk's Gressingham Duck and Norwich's Naked Wines are set to collaborate on a new on-pack promotion giving away cases of wine to lucky shoppers.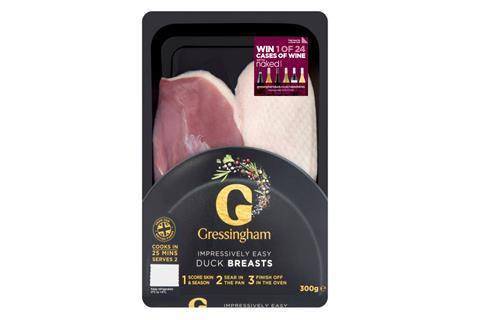 The campaign, which will roll out to retailers across the UK from now until the end of November, will feature on 400,000 packs of Gressingham Duck's fresh duck products.
Consumers who buy the special promotional stickered packs will have the chance to win one of 24 cases of Naked Wines.
"We are very excited to be running this on-pack campaign with Naked Wines," said Rebecca Alderton, marketing manager at Gressingham Duck. "Not only is Naked Wines a fantastic local firm, but it fits perfectly with the Gressingham brand.
"We really hope customers new and old will be enticed to try our delicious duck over the next two months and that we'll see a strong uplift in sales and experimentation. We also expect it to drive traffic to our brand new website where we offer lots of tips on how to cook duck, as well as some delicious recipes," Alderton added.