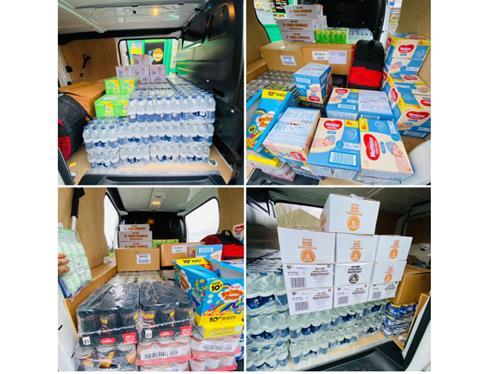 Across the nation, convenience retailers are making generous donations and raising funds to help the victims of the war.
Londis Carstairs Junction in Scotland has made a mass donation of stock, which is being sent over to Ukraine via the Biggar Youth Project SCIO and GOCC Edinburgh. The donation includes over 700 packs of paracetamol & ibuprofen; over 700 bottles of water; over 500 tins of food; plus full cases of teas, coffees and instant noodles.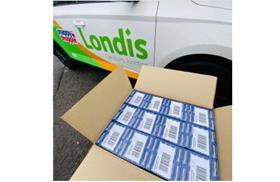 "We all know what's going on in Ukraine and how innocent people are suffering," owner Harry Singh Hallen told his customers. "We hope this reaches the people in need and hope it can make a slight difference. This donation isn't just from myself, this comes from every single customer who uses our store, without you we can't do these donations."
In Northern Ireland, Conor and Sinead Connolly, owners of Connolly's Spar & Off Sales Dunclug in Ballymena, donated a van load of essentials to local Rockfield Medical Centre, where volunteers are transporting donations to Poland. "It's the least we could do," Sinead told ConvenienceStore.co.uk.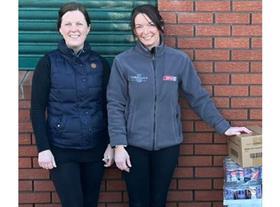 East Sussex independent Jempson's has announced that all of its in-store charity boxes will be transferred to fundraising for those whose lives have been affected by the war. "We are deeply shocked and saddened by the terrible events that are unfolding in Ukraine," said owner Stephen Jempson. "The Ukrainian people are foremost in our thoughts and we stand in solidarity with them. All Jempson's stores and the Rye Bakery outlets are offering customers and colleagues the opportunity to give their support by way of a voluntary donation of £1 when at our store till points. We will match this, with all the donations received to our in-store charity collection boxes, up to £10,000." His goal is to reach £20,000 in the coming weeks, wih all monies raised being donated to the Salvation Army Disasters Fund.
Meanwhile, a Dunstable retailer has found a unique way to raise funds for those fleeing the war. Last week, we reported that a number of retailers were refusing to sell Russian Standard vodka, but Bargain Booze Langdale Road has taken things one step further. "Russian Standard is the only true Russian produced voka that we sell," the store told social media followers. "We will not be ordering it again, BUT we wanted to do something more constructive than just removing it from our shelves and wasting the stock, as this does not help anyone. We will now sell through our remaining bottles and donate the entire sale price to the Ukrainian Red Cross. We have also ordered some Ukrainian vodka called Nemiroff, which should arrive soon. When it arrives all profits from the sale of this product will also be donated to the Ukrainian Red Cross."
Over in Norfolk, the CT Baker Group has teamed up with Support Ukraine UK to set up a drop-off point for donated goods at Budgens of Aylsham, Budgens of Holt, and Bakers and Larners of Holt. "Many people have been left without the basic necessities to survive and we will be collecting the items specified as a priority by Support Ukraine UK," said the group.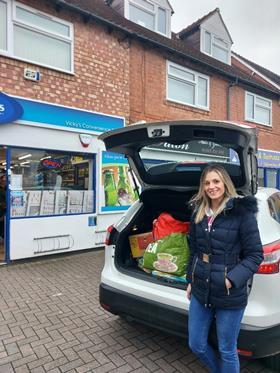 Vicky's Convenience Store & Post Office in Bromsgrove, Worcestershire, has also set up a collection point in store in conjunction with Atwell Farm Park & Oakland International and is encouraging customers to donate first aid kits, tracksuits, thermal blankets and hygiene products. The team has already taken two car loads of deliveries.
Londis Shiphay in Torquay is also busy collecting supplies for Ukrainians, including shampoo, toothpaste, nappies and hand sanitiser.