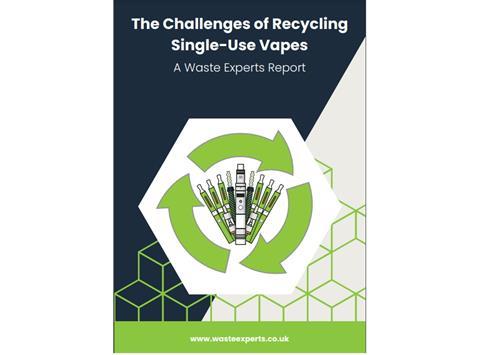 As disposable vapes continue to face intense scrutiny on environmental grounds, a new study shows that vapes are highly recyclable.
The findings of the research, which was conducted by Waste Experts and commissioned by e-cig firm Ands, were revealed at a special Houses of Parliament reception attended by the chair of the All Party Parliamentary Group for Vaping Mark Pawsey MP.
The study focused on the recycling performance of an existing and widely available single use plastic and aluminum vape, and Ands' new cardboard-cased product Slix. The recyclability of these products was measured on the materials used, weight of recyclable components, the amount of waste diverted from landfill, disassembly time, the number of components within each vape and the weight of the overall product in each case.
Key results across the two vape products were that between:
97.6%-99.29% of product is either recyclable or recoverable
74.8%-80% of the product is recyclable
0.7-1.15% of the total product is sent to landfill
7-11 components make up the device
90-210 minutes was required to dismantle each product
Stewart Price, scheme manager at Waste Experts said: "Whilst there are some variations between the two products, fundamentally our analysis shows they both demonstrated a strong recyclability performance."
"All materials found in disposables that we examined except for the battery have recycling and/or recovery options within the UK. For example, laminated cardboard can be used in low-grade paper products such as drinks holders, whereas standard cardboard will be used as future high-quality cardboard packaging."
He said: "By highlighting that single use vapes on the whole are highly recyclable, our study and experience of dealing with vape waste indicates that the real environmental challenge in the vaping sector is the lack of availability and knowledge of collection systems and recycling respectively, despite the waste industry being able to collect and process them.
"There is a lack of understanding and most media reports fail to focus on the fact that consumers can recycle vapes, but there is a lack of easy access to collection and recycling options."
Added Price: "There were some important findings that the vaping and waste management industry working together can learn from and act upon. Designing products with disassembly at the end of the product's useful life is hugely important in enhancing recyclability.
Despite the high recyclability performance of the vapes in the study, Price said there are still challenges that require urgently addressing. He said: "Due to the hazardous materials found in vapes, they need to be dismantled by hand as there is no current method to safely mechanically treat all types of vapes, for example the e-liquid container and the lithium batteries – this leads to an expensive and also rate-limiting step because suitably qualified personnel are needed."
The report also identified other challenges including:
Options for recycling plastic wrapping are limited at present, with much of this material going into 'energy from waste' applications.
Consideration needs to be given to treatment of used units where their condition may have deteriorated due to length of use and/or storage pending treatment. Extra attention or specialised treatment might be required for used devices that have degraded over time to ensure appropriate waste management.
Marina Murphy, senior director of scientific and medical affairs at Ands said: "The findings are very promising. However, it is clear that much still needs to be done to ensure that consumers are aware that these products should be recycled and that appropriate collection systems are in place to facilitate recycling participation.
"Our industry is on a journey. We know that we need to minimise the environmental impact of our products and work together with waste industry partners to resolve the challenges that have been highlighted in this report – both on the waste and consumer sides. We're delighted with the recyclability performance of our new Slix product, which was analysed as part of the study, and like the rest of the industry we are striving to enhance the sustainability of our products and we plan to launch a 100% recyclable product by the end of the year."
Speaking at the launch of the new study, Mark Pawsey MP said the "climate is changing" around single-use e-cigarettes but there is a "window of opportunity" to address the environmental impact of disposables.
He added: "I'm very, very pleased to endorse this report and am delighted that the industry is taking this issue forward."