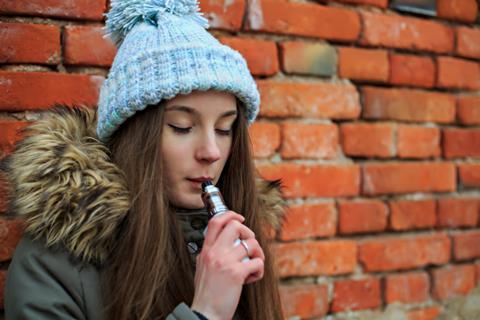 The percentage of children vaping has risen from 4% in 2020 to 7% in 2022, new research has revealed.
The annual YouGov youth survey for ASH carried out in March found that current vaping among children aged 11-17 was up from 4% in 2020 to 7% in 2022.
The survey also found that the proportion of children who admit ever having tried vaping has also risen from 14% in 2020 to 16% in 2022.
Disposable e-cigarettes are now the most used product among current vapers, up more than seven-fold from 7% in 2020 and 8% in 2021, to 52% in 2022 with Elf Bar and Geek Bar being the most popular, with only 30% of current users having tried any other brands.
The research also showed that 10% of 11-15 year-olds have tried vaping, compared to 29% of 16 and 17 year, and that while underage vaping has risen, underage smoking is lower than it was in 2020 (14% in 2022 compared to 16% in 2020).
As part of a rapid review of compliance earlier this year, a total of 442 test purchases using young people under the age of 18 years to attempt to purchase disposable vapes were conducted in shops during February and March 2022. Illegal sales were made on 145 occasions, resulting in a non-compliance rate of 33% (underage sales were highest in mobile phone and discount shops at 50% and 52% respectively). A quarter of the products purchased were not up to UK standards and should not have been on sale in this country
Commenting on the report's findings, Deborah Arnott, chief executive of ASH said: "The disposable vapes that have surged in popularity over the last year are brightly coloured pocket-sized products with sweet flavours and sweet names, and are widely available for under a fiver, no wonder they're attractive to children."
Arnott urged the government to crack down on the vaping category and suggested it be treated more similarly to the tobacco category.
"As the Khan review recommended to government, an additional £15 million needs to be invested in enforcement, and this should include vaping as well as tobacco products. The laws also need strengthening to prohibit child-friendly packaging and labelling of vaping products and to prevent promotion on social media. But online platforms like Tik Tok don't need to wait, they must act now. The flood of glamourous promotion of vaping on social media is completely inappropriate and social media platforms should take responsibility and turn off the tap."
Following the report, the UK Vaping Industry Association (UKVIA) repeated its call for fines of £10k for retailers found to be selling vape products to those underage and a national retail licencing scheme.
Chief executive of the Independent British Vape Trade Association (IBVTA) Gillian Golden added that social media platforms need to play their part in reducing underage vaping.
"Social media platforms supposedly have policies to prevent promotion of vapes to children, but they do little to enforce them," she said. "We monitor and report infringements to social media platforms, but they rarely take any action, with Tik Tok being the worst offender. Businesses that illegally sell products to under 18's, are also more likely break the law by selling products that do not comply with UK regulations. Most retailers and importers don't sell to children and want tougher enforcement to ensure that others don't either."