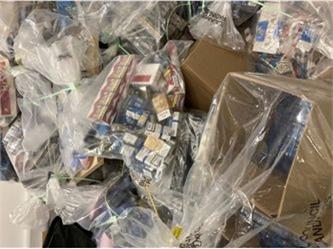 Blackpool Council's Trading Standards team has conducted an operation designed to target the sale and supply of illicit tobacco products which has resulted in huge quantities being taken off the market.
The new initiative, part funded by Operation CeCe, has enabled the council's Trading Standards team to increase the number and frequency of visits that they have been able to carry out with retailers in the Blackpool area.
In a typical year the team make 20 visits but this has been increased to 80 in just two months.
Thanks to this increased support, officers have been able to uncover hidden tobacco even when retailers have gone to extreme lengths to keep it concealed. In one premise a legitimate looking electrical panel was installed to cover illicit produce.
Blackpool Trading Standards added that "appropriate enforcement action will be taken against anyone involved in the sale and supply of illicit tobacco products".
Cllr Neal Brookes, Cabinet Member for Public Protection, said: "There's no place for smuggled and counterfeit tobacco on the streets of Blackpool. On top of it being illegal it can really pose dangers to the health of our residents and visitors. I am delighted that this targeted approach has shown such impressive results."