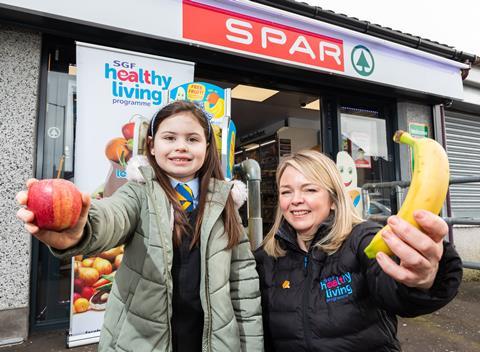 Spar is supporting the promotion of the Healthy Living Programme (HLP) with the roll-out of the free fruit scheme to children from five of its stores in Scotland.
Spar Scotland has already completed three free trials in partnership with HLP in a number of company-owned SPAR stores across the country.
The group is now turning its attention to rolling out the trial to independent Spar retailer stores.
Taking part will be Spar Blantyre, Spar Inchture, Spar Motherwell, Spar Scone and Spar Kinmylies.
The campaign, in partnership with HLP, encourages children to eat more fruit and enjoy a healthier lifestyle. The joint initiative between Spar Scotland and HLP highlights the importance on providing children with healthy options.
Paula Middleton, Spar Scotland marketing manager, said: "We are delighted to roll this campaign out to our independent network for the first time. The trial has proved very popular, and we are grateful to get such great support from our Spar retailers taking part.
"We know how important it is to encourage healthier snacking choices and consumers want to eat more produce. We have great quality fresh fruit and vegetables available in our stores and promoting this campaign remains a great way to persuade consumers to change their habits. It's another step in connecting with our local communities."
Kathryn Neil, programme director of the SGF Healthy Living Programme, added: "After the successful free fruit campaigns that Spar Scotland have trialled throughout selected company owned stores, it is encouraging that Spar Scotland are now supporting their independent stores to also provide free fruit for children.
The importance of introducing fruit to children's diets at a young age is vital but unfortunately not all children have access to this simple food product. SPAR Scotland are assisting in taking away the barriers for children and promoting healthier lifestyles within their stores and linking with the local community."