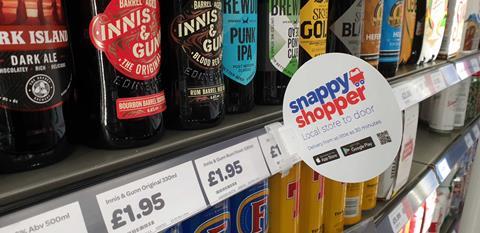 The Snappy Group is planning to help convenience stores take on dark stores in the home delivery war following a successful round of fundraising.
In its Series A fundraising, the Snappy Group raised £19.4m, including a £6.6m investment from services provider PayPoint. Other investors included Highland Tech, Justin King, Maven Capital Partners, Kelvin Capital and Scottish Enterprise while Mercia Asset Management previously provided the Snappy Group with funds and remains an investor.
In May, Snappy and PayPoint ve entered into partnership to allow retailers to offer a home delivery service.
Announcing the fundraising, Snappy said it hopes to use this investment to "empower local convenience stores to compete effectively against dark stores", particularly retailers who don't currently have the technology to offer home delivery.
Reporting a 16% increase in total Gross Merchandise Volume for the four weeks to 21 May compared a similar period in January, Snappy stated that "consumer demand for local home delivery has risen significantly and community retailers are eager to respond to those needs but do not have the technology to provide that service".
The statement added: "Snappy Shopper's affordable tech solutions and trading model enables local retailers to compete effectively in the fast-evolving on-demand convenience market, at a time when the importance of local shops has never been felt more keenly.
Snappy claimed that retailers can "increase revenue significantly with average basket spend more than trebling online compared to instore" and that "dark store operators compete with local neighbourhood retailers for space and customers whilst delivery aggregators charge significantly higher commission rates to cover infrastructure costs".
CEO and co-founder of the Snappy Group Mike Callachan explained how the investment would be spent. "The proceeds will significantly accelerate our next phase of growth across the UK, including investments in new services for our retail and hospitality partners and new hires across the business," he said. "Post lockdown the demand for home delivery and the desire to shop locally is greater than ever, but the increasing number of anonymous dark stores is a threat to local businesses and communities, which must not be underestimated. We are well placed to empower local business to offer another great service to their customers, and better compete in this fast-changing retail market."
Chief executive of PayPoint Nick Wiles added: "We're delighted to be investing into the Snappy Shopper business, building on the partnership that we announced recently to integrate their home delivery and click and collect technology with our own. This investment will enable PayPoint and our network of convenience retailer partners to remain at the forefront of retail and consumer trends."