Two of Scotland Women's football team visited Spar Halbeath in Dunfermline yesterday (1 May) to celebrate Spar Scotland's new sponsorship of the national team.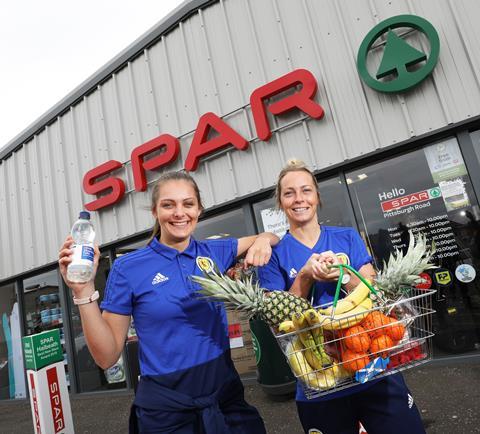 The new sponsorship deal sees Spar partner with the Scotland Women's National Team during the biggest year in the team's history, as the squad prepares for its inaugural appearance at the FIFA Women's World Cup this summer.
Joelle Murray and Jenna Fife, who both play for Hibernian, greeted customers at the store for two hours, posing for photographs and signing autographs.
Joelle Murray said: "We were delighted to be able to make an appearance at Spar Halbeath. It's great to have the support of Spar as a sponsor of the Scotland Women's National Team.
"Like Spar, we are committed to encouraging people into sport and it was great to get the support of the local people of Dunfermline.
"The World Cup is getting close now and we're really starting to feel the backing of the nation. Events like this further reinforce how much people across the country are starting to be aware of us and support us ahead of the team going to France."
Healthy Living Scotland was also in attendance, providing a healthy produce tasting as part of its promotion of the Healthy Living Programme.
The Healthy Living Programme has been working with convenience retailers since 2004, highlighting fruit and vegetable sales and healthier products also. It is fully funded by the Scottish Government and connects local schools with convenience retailers.
Spar Scotland ceo Colin McLean said: "We are delighted to be working with Scottish FA and it was fantastic to welcome Joelle Murray and Jenna Fife to our SPAR store.
"We are proud to promote our new sponsorship with Scotland Women's National Team and it was fantastic to see how the local people of Halbeath gave them such a warm welcome.
"We continue to support Healthy Living Scotland in our stores and having the team present on the day with an in-store event was very important encouraging young people to embark on a healthy lifestyle and eat healthily."