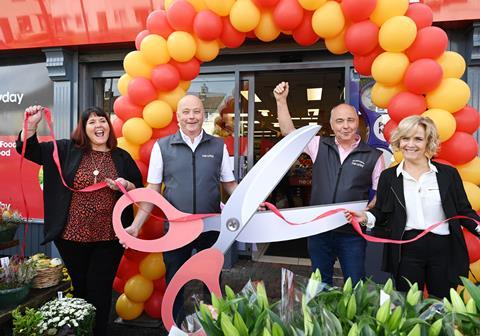 Northern Ireland-based wholesaler S&W Wholesale has opened its 50th Nearby symbol store.
The 50th store is a family-run business in Keady, Co. Armagh that has been owned by brothers Tom and Dermot McGrane for over 40 years.
Owner Tom said he was excited about the Nearby conversion. "We've been serving our local community for over 40 years and can't wait for our customers to reap the rewards of our new venture as a Nearby store. As part of the Nearby family, we look forward to working with the team to bring great customer service and unrivalled value to the people of Keady and beyond."
Working closely with S&W Wholesale team, the brothers have spent the past three months planning the conversion to Nearby. The most significant change instore is the introduction of a new off-licence known locally as 'Vineyard 2020'. Investment has also been made in new refrigeration, additional shelving, a new hot food and deli counter and additional check-out.
To celebrate the opening, the team held a fun-filled launch event at McGrane's Nearby. Customers had the chance to win prizes including nearby vouchers, prizes from local suppliers and the latest apple iPad. On the hour every hour there was a basket dash for customers to find an 50th prop in store and return to base within 50 seconds for a chance to win. There was also hot food sampling, wine tasting and customer nearby bags packed full of locally-supplied products.
The first Nearby store was opened in April 2021. "Since the opening of the very first store back in April, we've been working to create a high- quality service for both Nearby retailers and their customers instore," said Maurice Little – sales manager at S&W Wholesale. "The new Nearby stores have been very well received in their local communities with retailers noticing an increased level of footfall in their stores as a direct result of the conversion to Nearby."
Of the milestone, brand marketing lead at S&W Wholesale Daniel Comiskey said: "The opening of the 50th Nearby store is a big day for us all. We started this journey during the pandemic and to get to this point so quickly is a reflection of the hard work and passion from both our retailers and those behind the scenes at S&W Wholesale. We have big plans for the rest of the year and can't wait to continue the growth of Nearby – watch this space.".