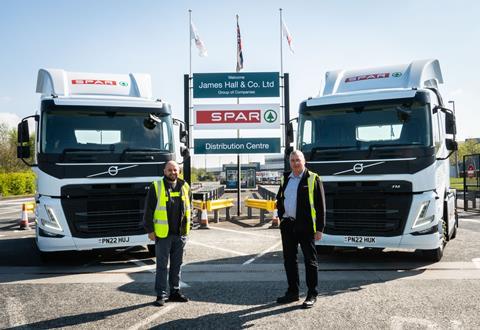 James Hall & Co. Ltd has added three new greener Volvo tractor units to its fleet.
The new Volvo Euro 6 tractor units are the first equipped with an Ecodrive refrigeration system to be introduced to James Hall & Co. Ltd's double-decked fleet.
The company's double-decked multi-temperature trailers will be powered by the electronic generator that is driven by the tractor unit engine, rather than separately by the trailer's diesel generator.
It is anticipated that the purchase of the new tractor units will result in an eight tonne per annum reduction of CO2 emissions, and the new Euro 6 tractor units are also more fuel efficient than the Euro 5 models they are replacing.
Further investment in a greener fleet is planned for later in 2022 and into 2023 with the delivery of the company's first refrigerated fully-electric articulated trailer as well as further tractor units and rigid trucks with lower carbon emissions.
Fleet engineering manager at James Hall & Co. Ltd, Ian Farnworth, said: "We're delighted with the new Volvo tractor units, and they are valuable additions to our fleet.Given that they are amongst our longest-distance vehicles delivering six days a week across the North of England, their improved efficiency and performance will make a considerable difference to our carbon footprint."
Earlier this month, the Scottish Wholesale Association (SWA) was invited to join Scotland's new Zero Emission Truck Taskforce in recognition of its ongoing work with members as part of its 'Decarbonisation of the Wholesale Industry' project.
The Taskforce comprises industry leaders from the road haulage, logistics, manufacturing, energy and finance sectors who will work in partnership to identify and co-design creative and practical solutions to maximising opportunities.
SWA chief executive Colin Smith, who is representing the wholesale industry on the Taskforce, said: "We're working at pace to explore opportunities and find solutions as we start planning the transition to zero-emission trucks so we're honoured to be invited by the Scottish Government to sit on the Zero Emission Truck Taskforce.
"There's a lot to take on board as we grapple with how best to achieve zero-emission trucks and it's our job to help members cut through the myriad information available guide them on the right path to decarbonise their businesses."
The SWA is inviting members to get involved in the sub-working groups that are being formed within the Taskforce and where the SWA will be active members of each. These range from trials and data to finance and infrastructure, with members having a real opportunity for sharing in, and shaping, Scotland's investment in zero-emissions trucks.