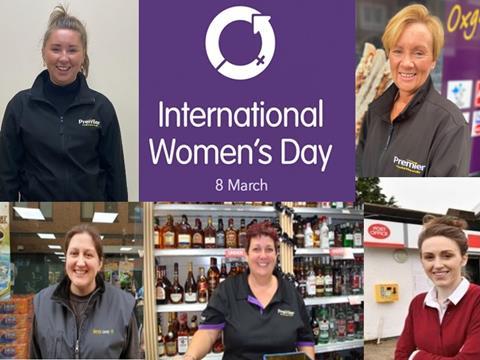 International Women's Day is a day to celebrate the social and economic achievements of women, but it is also a day to raise awareness of discrimination and bias, which unfortunately still exist in convenience retail.
Despite 70% of colleagues in convenience stores identifying as female, it appears there is still a huge gender gap in the sector, with only 33% of stores owned or managed by women. Before we jump to any conclusions though, the Association of Convenience Stores (ACS) is quick to clarify that this figure alone doesn't reflect the full picture.
"The figures in the Local Shop Report on who is running the store likely don't tell the whole story," says ACS chief executive James Lowman. "We know that 41% of stores are owned by family partnerships, and in a lot of cases it's a team, for example a husband and wife, or father and daughter that share the responsibility for making the business a success."
He adds that the number of female c-store owners is expected to increase in the future. "The percentage of female owners from the survey has been very consistent over the last decade, staying between 30-35%. We do expect more growth in women owning the business in the coming years, which is likely to coincide with another generational shift in ownership - currently around one in five retailers (18%) have been in the business for more than 25 years."
But even so, when we ask female store owners and managers for their views on how it feels to be a female leader in the convenience sector, there's one phrase that keeps coming up. Sophie Towers, owner of two One Stop stores in Burnley, Linda and Sophie Williams, owner and managers of Premier Broadway Convenience in Edinburgh, Sarah Darlow Stearn, manager of Best-One in Corby, and Anita Nye, manager of Premier Eldred Drive, all agreed that convenience retail is a "boys' club".
"Although it seems it has changed in the wholesale and manufacturing side, not much has changed in the retail side," said Linda. "When I go to conferences and meetings, I still see very, very few women in ownership or managerial positions, and it can be intimidating, you do feel excluded…even when the shop as a whole has won awards, the certificate will have my husband Dennis' name on, when we're very much a partnership."
Anita says she has been to many events where she is the only female. "When you're sitting down, they say, go for coffee, all the men are sitting around in a group, and it's like, this is the boys' club, 'this is our circle'," she claims. "And you see that reflected in the awards too. The Retailer's Retailer award, I'm not sure that a woman has ever won it, because it's the boys' club voting for the boys' club."
Unfortunately, the lack of visible female role models has led to convenience retail not being viewed as a viable career choice for women, something Sophie feels could be changed.
"Maybe if a young woman saw someone like me or another woman in retail as an owner in the media, or came to speak in their schools, they might see it as something they could actually do," says Sophie Towers. "So maybe it's about more visible role models and also sharing more stories because so many people don't know that actually, you can own a Spar, you can own a One Stop, you can own a Morrison's Local, they're not all company-owned, but people don't even know that, so it's about putting it out there."
Some of the reasons for the lack of women in positions of management or ownership are often the same as the reasons in other lines of work, however. These are based on stereotypical gender roles where men are the breadwinners and women are the caregivers.
Sarah tells us: "Childcare is still very much an issue. Maybe that's why there aren't many women in senior positions within retail, because if you're in these positions, it is a lot of hard work, especially in current times, you know, it's seven days a week, and you can't fit that round a family. This old idea of making a choice between having a career and having a family still exists. I'm very lucky in that I have a good relationship with my boss, who is the owner, so that I knew a job would be waiting for me when I came back from having my children. And my husband is self-employed so we can fit childcare around that. But other women might not be so lucky, they might leave to have a child and not have the option to come back, especially if they're owners themselves."
Linda comments: "A lot of it has to do with child and elder care. And because women still are the primary carers in most families, and the men go out to work. And it's always assumed that the men will go to work, and the women will be at home doing the caring and pick up the burden, pick up the extra things that need to be done. And that's just the way of the world in this day and age. And until that changes it's hard to say what the answer is."
Indeed, the flexible working hours offered within convenience make it an appealing sector for women who want to fit work in around other commitments. "The higher proportion of female colleagues in the sector reflects the flexibility that is offered by convenience stores," says Lowman. "We know that almost one in four (23%) of colleagues in stores have childcare commitments, and almost a third (32%) are caring for other family members."
Anita says that staff in convenience stores work there for this very reason, as hours can be flexible around childcare, but conversely, they don't view it as a long-term career. "I think women can see retail as a part-time job to fit around their children, and that may be why women aren't going into manager or owner positions," she observes.
Sophie Towers agrees: "I think for a lot of women, certainly the ones that I come across, it's not a career, they do it to fit round schools, because they're the parent that's expected to take that responsibility," she says. "I've got lots of local women working in the store, don't get me wrong, but they're not interested in going to a higher level. The people who want to develop their career it's probably not a job they're going to look at because there is no flexibility to have your family, because it's not something you can do from home, if you're high up in retail you have to put the hours in."
There are other issues women face, such as others doubting their ability, being undermined, and unwanted and inappropriate attention. Sadly, all the women we spoke to for this article have experienced this.
"I just don't think that they're [women are] respected enough, especially as owners," states Sophie Towers. "Nobody respects me, apart from local One Stop rep, we have a good partnership and he really values what I say and my opinion on everything, like he really treats me as a person. There's many other people that I've come across that have absolutely no respect. I've had like, 'where's your dad?', 'Where's your husband?', 'You can't possibly own the shop, you don't look old enough.' Even like dealing with situations where we've had aggressive customers and the police have spoken to me really rudely."
Linda has also experienced sexist attitudes - even from other women. "Only two or three weeks ago, I was in the shop working and a rep came in and said to me 'Is your boss in?'" she recalls. "I was furious, I told her: 'Look, why do you assume I'm not the boss?' And she just looked at me. And I really, really gave her a hard time. I was just so angry that in this day and age that still happened."
Anita recalls attending a Booker meeting with her boss, store owner Raju Patel, where she was singled out because of her gender. There were eight people in the room and Anita was the only female. "One man, he shook everybody's hand and totally ignored me," says Anita. "Raju actually turned around to him and said: 'Have you got a problem? Guess what? You've shook everybody's hand including mine. What's wrong with shaking her hand?' At that moment, I just thought, now you've gone back about 50 years."
Aiming to tackle some of the issues women face, the ACS set up the Women in Retail network last year. "Feedback from retailers ahead of the creation of our Womens' Independent Retailer Network suggested that some industry events are still male dominated and as such a lot of the social activity can be tailored more toward men than women," says Lowman. "One of the most powerful things in convenience is having a strong network, so we're keen to ensure that women in retail have the confidence to come to events and study tours and engage with their peers, as well as having the ability to learn from other leading women in the sector."
The group was formed to provide women with a space to connect with each other and share their experiences and perspectives, though Linda hopes it can be more than that.
"Hopefully by giving women a voice, the group will be seen more and therefore have more influence, as well as giving women confidence, which is a big thing," she says. "Hopefully it will be a safe space where women can voice opinions without the fear of being judged or ridiculed."
Though the launch of the Women's ACS group has been seen as a positive thing, all five women said there was still a long way to go and suggested other remedies to encourage women to strive for more senior positions.
Sophie Towers thinks a peer mentoring system could encourage women to reach higher in their careers. "I think there's more that the ACS group can do - there's opportunities to group women up when we're not together, so a bit like a peer mentoring system, so if you're new into retail you can be guided by other women," she says. "I'm an owner, I could mentor a manager, that would work, but it wouldn't work the other way around because an owner has a different set of responsibilities."
Linda adds that female leaders have an opportunity encourage those in more junior positions to see convenience as a career. "We're actually training a [female] manager to ultimately take over from us, hopefully, at some point, we will sit back and look to retirement," she says. "We have promoted her from that part time, sort of child carer-type role to supervisory level now, and she's taking on more and more responsibility. And I think we actually have to nurture people … and give them the prospects of a good career and make them understand that this could be a job that could do something for you in your life. And not just assume that they're going to leave as soon as their children have left school."
Linda and Sophie Williams are determined to challenge expectations and overcome prejudice by tackling it head on. Sophie says: "At the end of last year, we went as a family to the ACS heart of the community. And as a family, we made a decision that I would go on to the panel and speak on behalf of the shop. I think a lot of people were really shocked to discover how old I am, and I don't know if people find that intimidating, being a woman and being 22, being articulate and knowledgeable, but it's something I'm very proud of. I'm very proud to work with my family and for them to put so much trust in me to do these types of things… Since then I've been asked to do lots of other things which is a huge step for me and feels good to be recognised as someone who can be taken seriously, after years of prejudice. Sometimes you just have to take the step to put yourself out there and hit it straight in the face."
Anita wants womens voices to be heard loud and clear. "It's not just a male world, we do have ideas, and we have something to input. We're not second class citizens, we're as good as the next person," she says. "We just want to be heard, we need to be heard."
Sarah concludes: "In a retail world, the more women, the better!"
Calling all female retailers - we want to do more to support you. Please share your ideas, thoughts and opinions with us, by contacting Sarah.Britton@wrbm.com