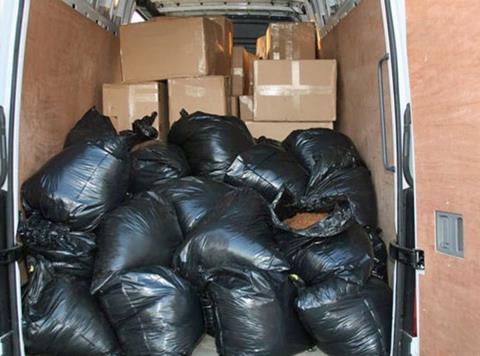 The illicit cigarette trade cost the UK government almost £2bn in 2020, a new study has found.
The report, Illicit cigarette consumption in the EU, UK, Norway and Switzerland, conducted independently by KPMG and commissioned by Philip Morris International (PMI), examined the trade of Counterfeit and Contraband (C&C) cigarettes over the past year.
The study found that overall consumption of cigarettes in the UK was 30.6bn in 2020, representing a 2.20bn drop on 2019's figures. This drop was matched by C&C, with consumption down by 0.23bn to 5.2bn. However, given the overall drop in the number of cigarettes consumed, C&C accounted for 17.1% of total consumption, up 0.45%pts on the previous year.
KPMG estimated that the total tax value lost to illicit trade in 2020 is £1,996m, up £40m on 2019.
The UK was found to be the second largest illicit cigarette consumption market in this study, behind France. The highest levels of C&C cigarettes were found in North East England, followed by Yorkshire and the Humber.
The report also found that travel restrictions as a result of Covid-19 had a major impact on flows to and from the UK. Duty Free cigarettes and inflows from Spain, two of the largest sources historically, declined by 52% and 81% respectively while total outflows from the UK declined by 43%. Inflows from Belarus increased to 0.66bn and almost all of this inflow was illicit.
The study suggested that Covid-19 related movement restrictions were targeted at individuals rather than goods and although traveller numbers declined significantly in 2020, the same cannot be assumed for illicit trade. It also theorised that with law enforcement staffing levels and movement reduced due to sickness, self-isolation or social distancing requirements, some goods checks and monitoring could not be as strict as they were before the pandemic, potentially reducing barriers for organised criminal groups (OCGs).
It added that EU law enforcement agencies have invested in making better use of Track and Trace and expect to see the full effects from 2021 onwards.
Commenting on the study, PMI's vice president, illicit trade prevention Alvise Giustiniani urged collaboration to cut down on the illicit trade. "It is crucial to protect consumers against counterfeits and that law enforcement, governments, and trademark owners such as ourselves in the private sectors come together as one to address and eradicate illicit trade in Europe and beyond. Eliminating illicit trade is particularly important within the context of PMI's transformation toward a smoke-free future, and we need to continue working in partnerships to address any potential illicit trade threats, including in our novel products. Compliance to the law and effective enforcement against criminals profiting from illicit trade is an absolute must."