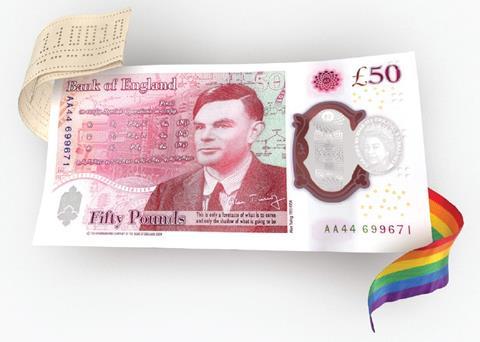 The new polymer £50 has entered circulation in the UK.
Featuring the scientist Alan Turing, the new polymer note contains advanced security features to help detect against fraudulent notes.
These include:
Tilt the note from side to side. Check the words change between 'Fifty' and 'Pounds' on the hologram.

Look at the metallic image over the main window. Check the foil is gold and green on the front of the note and silver on the back. Within the two gold foil squares on the front of the note, the image changes between '50' and a '£' symbol when the note is tilted. Look for a second, smaller window in the bottom corner of the note.

A portrait of the Queen is printed on the window with '£50 Bank of England' printed twice around the edge.

A silver foil patch contains a 3D image of the coronation crown. You will find this above the main see-through window on the front of the note.

A metallic, red foil patch contains the letters 'AT'. You will find this on the back of the note, directly behind the silver crown on the front of the note.

The note is printed on polymer, which is a thin and flexible plastic material. On the front of the note, you can feel raised print. For example, on the words 'Bank of England' and in the bottom right corner, over the smaller window.

The printed lines and colours on the note are sharp, clear and free from smudges or blurred edges. If you use a magnifying glass, you will see the value of the note written in small letters and numbers below the Queen's portrait.

Under a good quality ultraviolet light, the number '50' appears in bright red and green on the front of the note, against a duller background.
30 September 2022 is the last day of circulation for paper £20 and £50 notes. After 30 September 2022, many banks will accept withdrawn notes as deposits from customers. Failing that, they can be exchanged at the Bank of England.
What should you do with a counterfeit banknote?
The Bank of England cannot reimburse you for counterfeit banknotes. If you suspect that you have a counterfeit banknote, take it to your nearest police station. The police should fill out an NCO-1 form and provide you with a receipt and incident number. The suspect notes will be sent to the National Crime Agency and if counterfeit to the Bank of England for further examination.
If you have information about someone making, selling or using counterfeit banknotes, please contact the police or phone Crimestoppers anonymously on 0800 555 111.