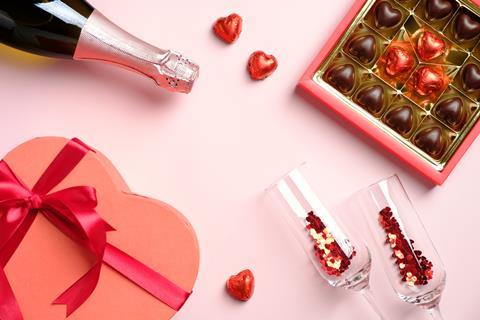 Last minute alcohol sales on Valentine's Day proved that romance is not dead in convenience as consumers celebrated love in lockdown.
According to PayPoint research, collected from its network of 27,700 convenience stores, sales of sparkling wine & champagne and wine on Valentine's were up 54% and 16% respectively compared to the other Sundays in 2021.
Proving that the classics are sometimes the best, confectionery also saw growth in convenience. The PayPoint research found that heart-shaped Ferrero Rocher and Lindor boxes saw a 1133% and 333% increase in sales respectively on 14 February, compared to their daily average to date in 2021.
Sales of Sharwoods Lamb Biryani also increased, with consumers looking to prepare a romantic meal at home. A report published by Co-op in August 2020 found that at-home evening dining occasions rose 60% during the first lockdown, so it appears these habits have stuck.
PayPoint retail services director Ben Ford said: "Despite the UK's first lockdown Valentine's Day, it's heart-warming to see that people all over the country still chose to make those special purchases to celebrate with their significant others whilst supporting their local store. Our network of independent retail partners have been more important to their local communities than ever before throughout Covid-19 as increasing numbers of people choose to shop local, and we will continue to work tirelessly to help them meet their customers' needs and deliver essential services."
Additional brands to see their highest sales of the year on Valentine's Day:
Cadbury Roses Carton +936%
Moet Brut Imperial NV +414%
Oxford Landing Cabernet Sauvignon +338%
Cadbury Milk Tray +300%
Nestle Quality Street Carton +300%
Martini Prosecco Brut Doc +268%
Sharwood's Lamb Biryani +250%
Bollinger N.V.Brut Champagne +150%
Babycham +140%
Nestle After 8 Mints +127%
(Source PayPoint)