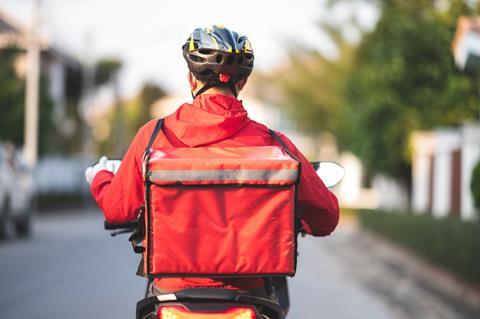 Research from independent retail compliance auditor Serve Legal has revealed that less than half (45%) of mystery shoppers were asked for identification when ordering age-restricted products through rapid delivery services.
In the last 12 months, more than 2,600 young mystery shoppers from Serve Legal made test purchases using online or app-based rapid delivery services with 45% asked to show proof of age when their order was delivered, despite it containing alcohol, cigarettes and other age-restricted products.
Serve Legal's research found that standard home delivery services which are made up of deliveries made by a retailer's employees; stores with designated drivers and when bookings are made using designated time slots well in advance fared better with 72% of mystery shoppers asked for age identification on delivery.
Commenting on the results, director at Serve Legal, Ed Heaver, said: "Retailers may have age identification measures like screening checks and facial recognition on their websites or apps, but these are toothless if delivery drivers are failing to ask for physical proof of age or are leaving goods unattended on the doorstep."
He warned that the failure to ask for identification could undermine the work done by retailers.
"Bricks and mortar retailers have been working hard for the last ten years to improve their performance around underage sales, with initiatives like Challenge 25, committing to regular testing programmes and improving staff and management training. It's time that more online retailers and their delivery partners did the same, particularly in the rapid delivery market where pressure to deliver orders as quickly as possible may be compromising diligence around age checks.
"Urgent action is needed and no responsible retailer or delivery company should be handing harmful goods to a young person without asking to see physical proof of age, like a passport, photocard driving licence or PASS-accredited (Proof of Age Standards Scheme) identification. In our experience, when retailers commit to regular auditing of their age check diligence, their performance improves exponentially."
Speaking to ConvenienceStore.co.uk, he added that the legal responsibility over age-related sales is a "grey area".
"The government hasn't really laid out the liability; you'd find third party delivery companies say it lies with the retailer, while retailers say they're acting under their Think 25 policy, so they [delivery drivers] should be asking like any member of staff. And it goes backwards and forwards. Meanwhile,there is potential for an age-related product getting into the wrong hands."

Self-scan checkouts
Serve Legal also conducted 8,000 test purchases of restricted goods using self-scan checkouts, resulting in 73% of its mystery shoppers being asked to produce proof of age, compared to 79% who used a conventional checkout with a member of staff (13,150 in-store test purchases).
Serve Legal offered up advice to online retailers and their delivery partners:
To ensure that couriers check a customer's verbal date of birth against physical ID before completing a delivery.
To send customers of age-restricted goods clear, regular information about ID requirements throughout the purchase and delivery tracking process. This provides forward notice for both the customer

and

delivery company, and avoids tension on the doorstep.
To include packaging stickers or labels to signal age-restricted contents. These alert customers that a request for ID will be made and prompt couriers to make an ID request.
To embed best practice and compliance around age verification in the culture of the business by committing to regular mystery shopper auditing programmes. Serve Legal data demonstrates that higher volume audit programmes result in greater and faster improvements in compliance.
To adopt the Global Standards for Online Alcohol Sale and Delivery developed by the International Alliance for Responsible Drinking. The standards include safeguards to verify sales to those over legal purchase age, to check ID at the point of delivery and deny delivery without proof, to refuse unattended delivery, to improve delivery driver training, education and information, and to use ongoing monitoring mechanisms to ensure compliance with the standards.