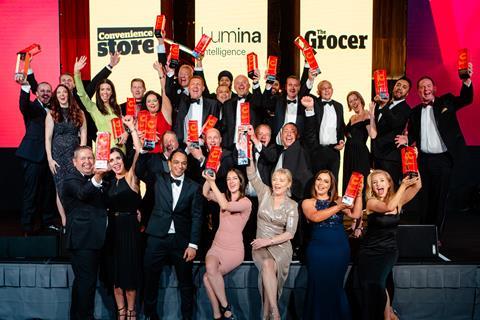 Entries for The Convenience Awards 2022 are now open.
Brought to you by ConvenienceStore.co.uk, Lumina Intelligence and The Grocer, the event brings together the entire convenience community to celebrate the very best stores, retailers, head offices, suppliers and initiatives from across the entire sector.
There are 14 self-entry categories for retailers to enter. New for 2022 is the Community Initiative of the Year category which celebrates ideas and innovations from retailers that have helped their local area.
The Rising Star of the Year category returns for 2022 and is open to anyone who has opened their first store or become a manager in the past three years. The self-entry categories will be judged by a panel of industry experts with a short list announced later this summer before the winners' announcement at The Convenience Awards event on 13 September at The Londoner Hotel in Leicester Square, London.
Last year's Convenience Retailer of the Year was David Charman of Spar Parkfoot in West Malling, Kent while the Shoppers' Favourite Convenience Fascia was won by the Co-op.
Editor of ConvenienceStore.co.uk, Aidan Fortune said: "Judging The Convenience Awards is one of the highlights of our year, and I expect 2022 to be no different. The quality of entries we get is always high and it's fantastic to see the amazing work being done by retailers all over the UK."
He urged retailers to get their entries in to this year's awards. "There are so many great retailers out there with thriving businesses, and we want to know all about them! We've had some tremendous winners over the years and if you think your store could beat the competition, enter now."
As well as the prestige of winning a category at The Convenience Awards, all winners will be invited to become a C-Store Champion - an elite group of retailers who show best practice within the sector.
Deadline for entries is 11 April 2022.
ENTER THE CONVENIENCE AWARDS 2022
As well as the self-entry categories, there are seven research categories, powered by Lumina Intelligence's Convenience Tracking Programme. The convenience store fascia/group awards are calculated using the UK's largest convenience shopper study. Lumina Intelligence's Convenience Tracking Programme is the authority on the complex and fragmented UK convenience market.
Built from analysis of over 50,000 shopping trips per year, with shoppers asked to rate their shopping experience across a range of different KPIs, including range, availability, ease of shop and friendliness of staff. The supplier awards are based on feedback from interviews with over 250 convenience store retailers.
Self-entry Categories
Sales Colleague of the Year
Community Retailer of the Year
Community Initiative of the year
Convenience Rising Star of the Year
Customer Delivery Store of the Year
Sustainability Retailer of the Year
Food to Go Store of the Year
New Store/Refit of the Year
Small Convenience Store of the Year
Large Convenience Store of the Year
Independent Convenience Store of the Year
Multiple Managed Convenience Store of the Year
Retailers' Retailer of the Year
Convenience Retailer of the Year
Research-based Categories
The UK's Favourite Forecourt Group
The UK's Favourite Symbol Group
The UK's Favourite Convenience Multiple
The UK's Favourite Convenience Store Group
The Retailers' Favourite Product Launch
The Retailers' Favourite Supplier Salesforce
The Retailers' Favourite Convenience Group for Category Support