Robot delivery company Starship Technologies has expanded its robot delivery service to central Milton Keynes, following two years of successful trade in a number of suburbs.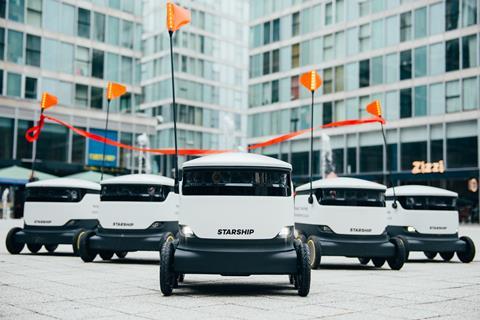 The service, which has been "hugely popular" in the surrounding areas of Bletchley, Monkston and Emerson Valley, partners with local restaurants and stores, including the Co-op Group and Tesco, to deliver food to offices and homes.
Since April 2018, Starship has made over 100,000 deliveries across the suburbs of Milton Keynes, with some residents making up to 200 orders per year.
In that time, Starship has faced growing calls for the service to expand to other areas of the town, especially the congested town centre, Starship Technologies head of UK operations Andy Curtis said.
The robots also deliver hot food and takeaway, from outlets like Fish & Chips shops and Kebab shops.
A number of stores and restaurants have now signed up in central Milton Keynes and the service will be expanding "to many other vendors throughout March and into the summer months," Curtis added.
Starship expects the service to be particularly popular at lunchtime.
Launching the service in the town centre, Mayor of Milton Keynes Sam Crooks said he hoped it could help to reduce traffic congestion.
"The robots have become an iconic sight and everyone's excited at the prospect of them delivering in the town centre.
"We're living in an era where we are more conscious about the individual effect we're having on the environment, and the centre of Milton Keynes can get very congested.
"Hopefully this new service will ease congestion in the centre and make it that bit more environmentally-friendly, whilst giving workers the opportunity to experience robot delivery in a town on the front line of new technological advancements," he added.
Orders and payments are placed via the Starship deliveries app.
The robots drive autonomously but are monitored by humans who can take control at any time.