An increasing number of retailers large and small have introduced restrictions on purchasing, amid calls to shop responsibly.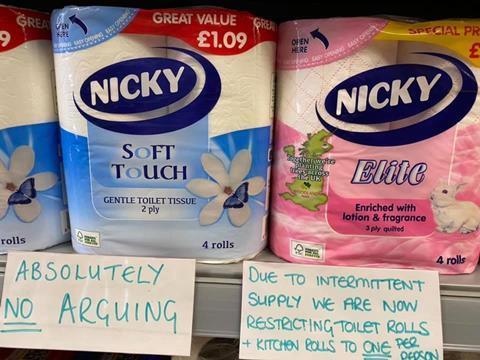 East of England Co-operative is introducing a maximum two items per customer across all products from 6pm this evening (18 March), due to "exceedingly high demand".
Henderson Group and Spar NI introduced a three-item limit from midday today (18 March).
Sainsbury's has restricted customers to purchasing a maximum of three of any grocery product and a maximum of two on the most popular products including toilet paper, soap and UHT milk.
It has also closed its cafes and meat, fish and pizza counters in supermarkets in order to free up warehouse and lorry capacity for products "that customers really need", and free up time for staff to focus on keeping the shelves stocked.
Asda also announced on Wednesday that customers would only be able to buy up to three of any product across all food items, toiletries and cleaning products.
A number of convenience stores are also limiting purchases per product, while others are urging their customers to shop responsibly.
Fraser's Budgens, a five store group based in Wiltshire and Berkshire, has started operating a strict two-packs-per-customer policy, while limiting essentials to one pack per customer.
Bargain Booze Moss Lane in Macclesfield wrote on Facebook: "We have had toilet roll in this morning but we are very conscious of making sure everyone gets what they need so we are limiting it to one 4 pack per person for now! Please do not ask staff to save and absolutely do not argue with them! We have to look after EACH OTHER."
David Charman, owner of Spar Parkfoot in Kent, has posted a video on Twitter calling for sensible purchasing. "We've taken the decision to buy a whole month's supply [of Cook products]. If you buy sensibly and carefully we can get through this difficult time," he said.
Meanwhile, Spar took action after a Spar retailer in Suffolk Road, Sheffield, was called out on Twitter for charging single toilet rolls for £1, and 24 packs for £24.
"We have been in contact with the independently-owned Spar store on Suffolk Road, Sheffield, and confirmed that the pricing has now been rectified. This was a decision made by a junior member of staff and they apologise for this error," Spar UK said on Twitter.