Convenience store retailers are stepping up to meet soaring demand for home deliveries with the help of app-based services, hard-working staff and volunteers.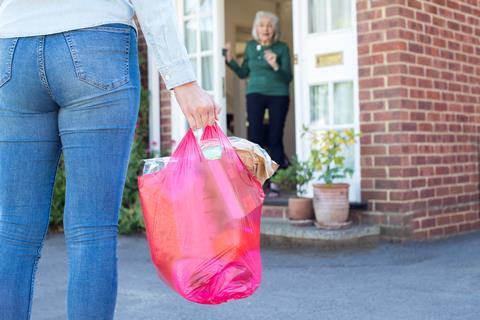 Sheffield-based Premier retailer Mandeep Singh is set to trial a local app-based service called City Grab, which will supplement his long-running store delivery service.
"It's a bit like Just Eat – customers place an order and a taxi comes to collect it from us. I've given City Grab a list of products from across all departments. It's in addition to our own delivery service, which has obviously got a lot busier and is used by more local customers," he said.
Matthew Hunt, director of South Wales Nisa group Filco, recently launched the Snappy Shopper delivery service, which has seen a surge in orders.
"It's gone from 10 orders to 60 orders a day – and we're expecting to get up to 100 per day. There are some issues though – it's not linking with live stock counts, so customers don't know what not to order," he said. Snappy Shopper said it was currently in discussions with Filco's Epos company.
Matthew added: "Grocery is generally holding up well. People aren't panic buying now, they're reassured that we can supply them. But there was an instant surge in booze sales on Friday after the pub closures. Our shelves were stripped bare."
Manchester retailer Mital Morar has closed the café areas and social spaces in his stores, including Ancoats General Store and Stretford Foodhall, but the retail areas remain open.
"We've been doing lots of takeaway coffee and have been fast-tracking Uber eats and Deliveroo to deliver food to customers, and we're also gearing up a dark kitchen so we can deliver meals," he said.
Andrew Thornton, owner of Thornton's Budgens in North London, has introduced a free delivery service for the elderly with the help of local volunteers, as has Essex-based Nisa retailer Alan Carr.
"We're doing door to door deliveries, about 30 a day, with the help of volunteers," Alan said.
North Wales Spar retailer Conrad Davies started offering home deliveries last Friday (20 March) from his Pwllheli store, with orders already up to about 40 per day. Minimum spend is £25 and he uses taxis and his meat van for deliveries.
Jag Brar, owner of Londis Cricklade in Wiltshire, said: "We've got a large elderly base so we've been giving our number out to anyone elderly and anyone isolating really. We deal with elderly people's requests on a case by case basis. We just say 'give us a call and we'll try to pop it to your door'. It's been hard to implement but it always takes time to put a strategy in place."
Meanwhile, Snappy Shoppers has announced free delivery for over-60s. Customers aged 60-plus can use the code OVER60 until further notice on all of their orders over £10 for free delivery. All partner retailers have fully supported the move.
Chief executive Mark Steven said: "The solution allows shoppers to order via the app and have products delivered to their door in 30-60 minutes. The app automatically highlights participating stores in the shopper's local area and allows them to order and pay via card or cash."