Relaxing Sunday Trading laws would issue a body-blow to the UK's heroic convenience store industry, shifting trade away from the stores which gave their all to support local communities through the darkest days of the coronavirus crisis, retailers claim.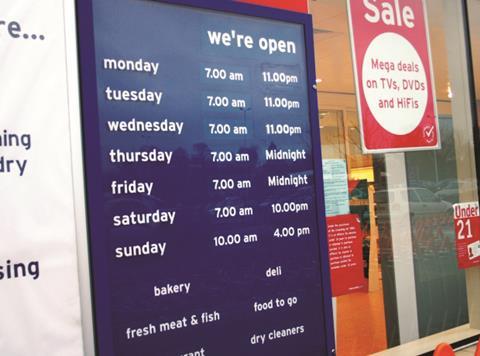 The government is said to be preparing legislation that will allow larger supermarkets to open for more than six hours on a Sunday, initially reported in The Times on Saturday.
Independent retailer Manny Patel, of Manny's in Long Ditton, Surrey, said relaxing the Sunday Trading laws was likely to dent his store's footfall and sales, which have now returned to pre-Covid 19 levels.
"Changing the laws would undoubtably have a negative on us and it just doesn't seem necessary, especially as the number of supermarket convenience formats which, are exempt from the current trading restrictions, are continuing to grow," he said.
"Changing the laws would be really harmful, driving footfall away from us at a time that we desperately need to hold on to it. The rise in footfall and sales that we experienced for around five weeks during lockdown has now dropped back to pre-Covid 19 levels and we are left with loads of surplus stock that we bought in to help meet demand.
"Just last week I had to dispose of a large quantity of fresh produce that I had bought in when the community was in need but now that panic buying has eased, local people have returned to their old ways, which is pretty disappointing."
Independent retailer Dean Holborn, who owns two Holborn's stores in Redhill and Reigate, Surrey, said he would be writing to his local MPs urging them against any relaxation of the rules.
"I'm incredibly passionate about preserving the Sunday Trading restrictions, they are hugely important to our business.
"Convenience stores have put in phenomenal efforts to support their local communities in recent months and to start erroring those now by taking away this special trading time is totally wrong," he said.
Rav Garcha, who owns six Nisa stores in the West Midlands, was also outraged by the suggestion of relaxing the rules.
"The Sunday Trading regulations are so important to us, even pre-coronavirus they were our busiest day of the week and incredibly valuable financially. In many of our stores, Sundays set us up for the whole week," he said.
Association of Convenience Stores (ACS) chief executive James Lowman agreed that changing the current laws would only serve to displace trade from the local shops that had kept communities going during the pandemic.
"If anything, local shops and other retailers have been reducing the number of opening hours in their business to keep their staff safe whilst restocking and cleaning stores, and we expect non-essential retailers to operate with limited hours when they re-open later this month," Lowman said.
"There are many measures that have been recommended through high street reviews and task forces in recent years that could support the recovery of high street businesses, but at no point has a change to Sunday Trading regulations been considered and with good reason.
"To upset the balance that has been struck on opening hours on Sundays would put small shops at risk, with increased costs but no guaranteed benefits for their larger counterparts."
Polling conducted by Populus on 7 May 2020 showed that 58% of consumers support the existing Sunday Trading regulations, with just 21% opposed.