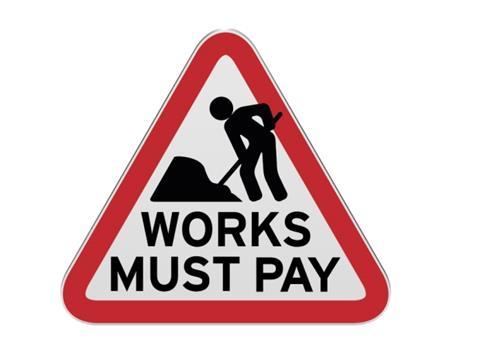 Convenience Store is launching a campaign calling for compensation to businesses which lose out on trade due to the impact of nearby roadworks.

The campaign, Works Must Pay, run together with leading pub trade publication The Publican's Morning Advertiser (PMA), calls for a change in policy to ensure local businesses directly impacted by road or utility maintenance get a proportionate business rate refund, or are adequately compensated by utilities, depending on the nature of the works.

Currently, the highway authority is under no legal obligation to offer compensation to businesses during roadworks schemes which can have a devastating impact on a retailer's trade. The owner of a business would only have a claim against the highway authority for roadworks if the loss of business was a result of negligent action by the highway authority or contractor.

Water and gas companies, however, have a statutory obligation to compensate businesses which directly front the works. But the onus is on a business to seek out the compensation, and retailers often claim the system is rigged against them.

C-Store editor David Rees said: "With business costs high and rising, the last thing that retailers need is outside agencies committing to works that impact on sales and drive regular customers away.
"Essential works and improvements should be carried out in the context of supporting the entire community, including local businesses, and those creating the disruption should acknowledge the damage that such work can cause as part of the original plan.
"A simple and transparent process for claiming compensation or a business rate reduction is long overdue, and will help redress the balance of fairness when it comes to building works."
PMA editor Ed Bedington, said: "We recognise that works need to be carried out, but at the same time businesses affected should be entitled to automatic compensation, and not forced to jump through hoops to get what they are entitled to. The fact that, in a lot of cases, no compensation is given at all is appalling and needs to change."
Retailer Dean Holborn, owner of Holborn's Redhill and Nutfield, Surrey, said: "I've had numerous problems with gas works outside the store. I lost about £90,000 in trade once and even that wasn't enough to claim back. The system is fraught with loopholes. I know they have work to do, but they do it without due care to other businesses. I've tried to get compensation from highways works, too, but never had a penny back. If this campaign achieves its aim it would help benefit small businesses across the country."
Cross-industry support
C-Store and PMA have joined forces for the Works Must Pay campaign to leverage cross-industry support. Over the course of the campaign we will be seeking industry backing, highlighting case studies and pressing government into making the necessary changes. Support from both industries is already vocal and enthusiastic, with pubs and c-stores equally burdened by the current status quo. We will detail the support in forthcoming issues of C-Store and the website. In the meantime, please tell us your own experience by emailing robin.mannering@wrbm.com.