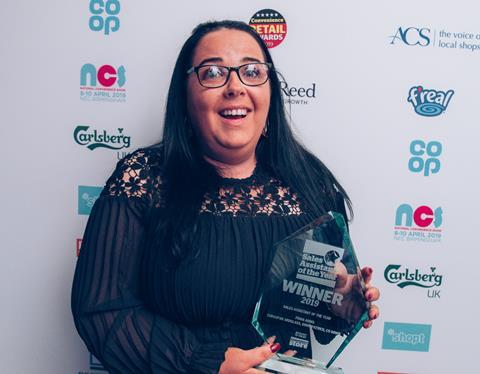 Staff and customers of Eurospar Ardglass in County Down are celebrating after customer advisor Fiona Addis was crowned Sales Assistant of the Year at the 2019 Convenience Retail Awards (CRA) held in London last week.
Customer advisor Fiona awed the judges with her selfless community work and genuine compassion for local people; from personal shopping, and in-home product taste testing for the elderly, to free events and meals for hard-up customers.
However, in a store and community first, it was her efforts to host a Santa's Grotto event for local children with special needs, which was the real cherry on the cake.
This, combined with her stellar store work, including manning the deli, boosting the number of home delivery accounts and making customers smile and spend at the tills, made Fiona the clear front-runner for the high-profile accolade.
Accepting the award on the night, Fiona said: "Obviously I don't do my job to win an award, I do it because I genuinely love the work and the community, but that said, receiving this wonderful recognition is fantastic.
"I'm most proud of the work that I have done, and continue to do, to help local children and in particular the work to help children special needs. I can't wait to get back to the store to tell everyone because I know how happy they will all be.
"Meeting the other finalists on the night re-enforced the fact that we work in such a fantastic industry where with just a little effort we can genuinely help make people's lives better and for that I am so grateful."
Convenience Store editor David Rees said: "All of our four category winners were outstanding in their own right, but Fiona is real all-round champion, who puts meeting customer needs at the heart of everything she does.
"From friendly and helpful service at the till, to local initiatives which have provided genuine help and support for many of the most vulnerable people in her neighbourhood, she is a shining example of the key role that sales assistants and local stores can play in their local communities."
Store supervisor Lyndsay Howden-Smith was also presented with the Community Hero award at the event, which took place at the Royal Lancaster Hotel.
In 2018 alone, Lyndsay, of Spar Bradley in Grimsby, helped more than 100 local organisations, from feeding Grimsby's homeless community to organising Christmas gift bags for children in care homes.
Accepting the much-deserved award, Lyndsay said: "I don't do any of this for the recognition, I do it because I genuinely love to help people and I'm in a role where I have the luxury of being able to do that."
"Seeing the difference that my work can make in the community, particularly the help and support that we have give to local homeless people and those in real need is a reward in itself and this is a real cherry on the cake."
The Community Hero Award is sponsored by The Co-op.