A Co-op Group forecourt store in Worthing has withdrawn its free Costa coffee offer to emergency services personnel after the "show of appreciation was taken advantage of".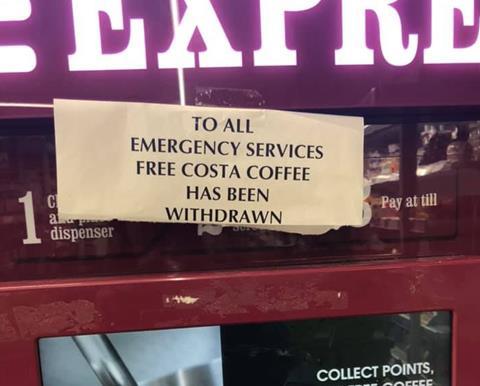 After the manager of the Nelson Road store put a notice on the Costa machine informing emergency services that the free offer had been withdrawn, a customer took to Facebook to express her disapproval of the decision.
"I think it's disgusting that our emergency services were given free hot drinks and now it's been taken away! With the cold weather setting in these guys are working 12 hour shifts, I think they deserve a couple of hot drinks during that shift," she wrote on a Worthing community Facebook group.
However, a number of other customers remarked that the offer had been exploited by other shoppers, and that the Co-op had overheads to consider like all businesses.
The store is offering the use of its canteen facilities for emergency service members instead.
A Co-op spokesperson said: "The store had a limited offer to provide uniformed members of the emergency services with one free drink but the store has been forced to suspend the service after the show of appreciation was taken advantage of, but our store manager is offering the use of his canteen facilities for those taking a break from their duties."