Involvement in local events may be costly and time-consuming, but our C-Store Champions say it is all part of building a community rapport.
Gregory Cochrane, Eurospar Knockchree, Kilkeel, County Down
Gregory says helping with local community events helps to set his store apart from the competition.
Kay Patel, owner of five Best-one and Global Food and Wine stores, London
Kay's work with local schools is paying off and proving to be a great way to build loyalty.
Mos Patel, Family Shopper, Ashton-under-Lyne, Manchester
Mos' Halloween event is a highlight of the year for his community and brings in new customers.
Dee Sedani, One Stop franchisee, Etwall, Derbyshire
Using his links with One Stop and focusing on small-scale charities proves successful for Dee.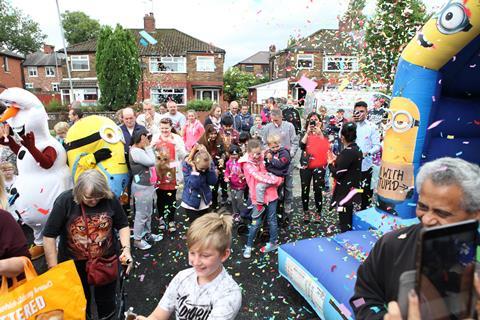 What local community events are you involved with?

Gregory: As a team, we have raised more than £40,000 in the past three years for local causes. We have been involved in some great initiatives including the Mourne Stimulus/Eurospar Annual Walk. This involved our shoppers, staff and local suppliers taking part in a 5k sponsored walk around Kilkeel, and saw us raise more than £3,000. The money went towards helping keep our local respite centre open, which supports 37 adults with varying degrees of learning difficulties. We are also proud to be involved in supporting Cancer Fund for Children. The charity's respite centre is 10 miles away and provides vital support for children and young people living with cancer, as well as their families. For the past two years we have also been involved with the Eurospar Community Coffee Morning, where staff, customers and local suppliers provide baked goods to sell. Last year we raised more than £2,000. Other events include sponsoring our local school's sports day. We provide medals, certificates and a healthy snacks goody bag for the children. A key element for the day is promoting healthy eating through education.

Kay: During the past year we have sponsored the local secondary school's soap box races, in which we find the materials for the schoolchildren to use to build a soap box car. Once the cars are built, we also provide money for refreshments and venue hire at the race finals held at the London Olympic Stadium. We also provide drinks and snacks for the local primary school's end-of-year prom. In the past, we have participated in the Wanstead art trail, too, in which artwork made by local artists is displayed in local shops, where people can follow the trail and view and even buy the installations. We also help local nursing homes and nurseries with raffle prizes. We've given out free tea and coffee for a local fun run that passes our stores. We're also a designated safe point for people with mental health or learning difficulties to come and get help if they are lost or having issues. Staff are trained in what to do and who to contact as part of the Bee Safe project.

Mos: We normally do an event for Halloween, and every other year we visit the wards at the local hospital to give out presents. We work with a nearby food bank to donate food on a monthly basis and sponsor the local kids' football team, helping them out with their kit and anything else that they need.

Dee: We tend to focus on smaller projects and work on the basis that people can come to us for funding and we will support them in any way we can. We used to sponsor the local kids' football team, but unfortunately they chose to go to the nearby Aldi supermarket for sponsorship this year. We'd supported them for the past six years so it really hurt when they went elsewhere. We're fortunate to have the backing of One Stop, though, so benefit from their charity initiatives.

How important is it that c-stores have a good sense of community?

Gregory: It is vital for us to be a hub for our local community. It sets us apart from our competitors in putting our environment, good causes and cross-community projects at the forefront of our business.

Kay: I think that to get that competitive edge nowadays you have to be seen to be trying to give something back to the community you are in. Whether that is by employing local people, participating in social events, or helping local charities, it all helps create that community feel.

Mos: It's all about raising our profile in the community. It doesn't affect footfall too much, but it is always a positive thing to do. That said, we can't do everything and recently we have had to cut back and stop running some events because we are losing so much stock to theft. The Halloween event costs us about £500, so isn't cheap. We have to make sacrifices somewhere and customers understand that we are still there for them.

Dee: I think there is still a place for it, but it depends on location. Holding events is always a cost, like everything in business, but if you do it right then it can work for you.

How much time do you dedicate to organising events, and do you assign them to a specific member of staff?

Gregory: Ashleigh, our in-store community champion, is truly passionate about making a difference for our shoppers, local charities and our environment. Ashleigh is a team leader in our store, but one of her key roles is the responsibility for co-ordinating our community projects.

Kay: To be honest, we try to dedicate as little time as possible to planning and organisation, as involvement in the community can often spiral out of control. I handle most things myself, but I do try to delegate events that are easier to manage to staff.

Mos: I do all of the planning myself rather than getting too many of the staff involved. To make things easier, we like to get the community groups and spokespeople to help out, too. They are really good with the running of our Halloween and summer parties. It's their kids that are at the events, after all, so they can keep an eye on everything while the staff focus on the business and serve people with drinks and snacks. The bouncy castle and novelty activities tend to be the biggest attraction and we get a good few hundred people coming to the events.

Dee: We don't have a set budget for anything to do with the community, because I don't think any retailer can accurately predict what people are going to approach you about. I manage all of our charity work and sponsorships myself, which means we have full control over what we do in the store.

What kind of event has the greatest impact or payback?

Gregory: In December 2017 we created the Elf on the Shelf campaign, where local children could come in each day to find a toy elf in different locations around the store. This was an innovative way for customers to get involved, have fun and raise more than £1,000 for our local hospice. Since then the campaign has been rolled out across other groups including all Eurospar stores in Northern Ireland over Christmas, receiving more than 21,000 in-store and online entries.

Kay: School children are a big part of our business and therefore anything to do with them creates a real buzz and is something that we focus on for our events.

Mos: I think Halloween does best for us, because it is perfect for the autumn season. Lots of people travel from outside the area to come to it. People park up outside the store, around the nearby streets or walk to us in full costume. It's our best event for attracting new customers; many comment on how they haven't been to us before.

Dee: I've got more out of working with local groups and schools than I have from working with the football team in the past few years. It was great when it first started, but the pay-off from doing it steadily declined over time. The good thing with our store is that we have the One Stop Carriers for Causes, which allows us to approve £1,000 grants for groups in our area. All the money is raised from the sale of plastic bags and is managed online. I get a message straight away if someone has requested a grant and can check it before approving it. The money gets sent straight to them.

How have shoppers reacted to the activity in your store/s?

Gregory: Customers view us as being committed to making a difference in our area. This has enabled us to build trust and meaningful relationships with our nearby shoppers and wider community, increasing loyalty in the store.

Kay: The reaction from customers is nearly always positive, but there is sometimes a risk of events looking like they are too commercial, but the fact is that they are, so you have to strike a balance.

Mos: It's all a kind of marketing at the end of the day, and people appreciate what we do. They stick up for us when people steal from the shop so it works to our advantage to build up a good two-way relationship with locals. We know that some people shop with us for that reason.

Dee: Most people know us for the way we encourage people to come forward if they need some funds or stock for an event.

Who are you looking to work with this year to boost your community efforts?

Gregory: Our next Eurospar Community Coffee Morning event takes place next month and we always look forward to supporting this worthy cause as part of our work with the Henderson Group.

Kay: We have a number of local charities that we want to work with so we will try to get things moving with them this year - for example, we don't currently charge for bags and we want to look to do that and give the money raised to a good cause.

Mos: We want to work more with our local food bank and donate more stock to them. The food we donate is all fresh and we order it in from our wholesaler rather than giving away items that have passed their best-before date. It's really important for us that we work in this way.

Dee: We are looking to do something with the recycling of plastic bottles, which will raise money for charity in a similar way to One Stop's Carriers for Causes initiative. It's been six months in the making and we should have everything together for a big reveal next month, so watch this space.
Insight
Do you set a yearly plan or budget for the community work you get involved in?
Gregory: Each year our store plays a key role in sponsorship of the local branch of the Royal National Lifeboat Institution. Many of our customers are involved in providing a lifeboat service in Kilkeel so our team are passionate about giving back to the community and love being involved in the annual fundraiser. However, we also support several local causes which are presented to us through the year.
Kay: We don't really set out a plan or budget, but we know when certain things are going on in the area and have a local website and our own mini magazine which highlights such events.
Mos: We know what events are coming up and have them on the calendar, but it is difficult to predict what our trading will be like so we don't budget for events too far in advance. If some of the schools come to us for donations or sponsorship then we give them a bottle of wine for their raffle, or support them in any way they need us to. The way that we do our events means we can do all the little everyday things that people take for granted.
Dee: We just take it as it comes rather than planning too much, because things are very hard to predict at the moment. You don't want to waste time and energy on something that isn't going to work. We want to be reactive to the community, which means people come to me and I can judge whether we are able to help them out.
Advice
What advice would you give to retailers who want to improve their community links?
Gregory: It is vital that retailers are sympathetic to the needs and circumstances of their customers. Recently, a customer became very ill and we were able to organise a phone order and delivery to her home until she was able to get back on her feet. It's important that staff are encouraged to listen to the customer and support them. We strive to be first choice within the community, whether it is for sourcing products, for an unsure customer or arranging a platter of sandwiches for a family bereavement. A key benefit of being at the heart of the local community is the added value to team morale, too. We have a duty of care to embrace our local community, to make a true lasting difference. This is not a task, it's about making a difference in people's lives.
Kay: I think it is important for retailers to talk to their local community organisations, or even have meetings with other nearby businesses. These kind of partnerships work well for events.
Mos: You have to invest money in the events you run, which might mean biting the bullet when it comes to costs. Whether you go big or go small, it pays to put more in so that you get more out of it.
Dee: It is always important to have a good working relationship with the charities you work with. From my experience, I would advise working with smaller causes that really value your support.