A massive blaze has destroyed a Budgens store in Holt, Norfolk, leaving owners and staff "utterly heartbroken".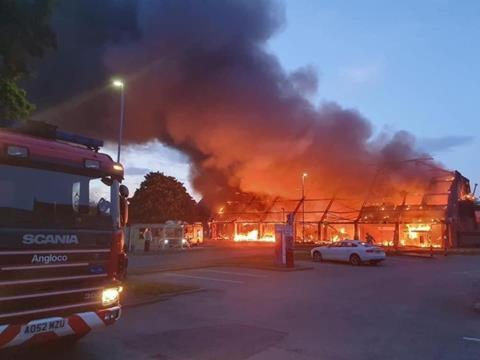 The incident occurred on the evening of Saturday 20 June when the Norfolk Fire & Rescue Service was called to the store. No staff members were hurt but the building was completely destroyed.
In a statement, the business which is owned by Bakers & Larners of Holt, issued the following: "Our team is safe but utterly heartbroken. We would like to extend thanks to both Norfolk Constabulary and Norfolk Fire & Rescue Service and to our wonderful community for the many messages of support we've received."
On Sunday 21 June, fire crews were still on the scene, working to extinguish the fire completely.
Fire crews will be remaining on scene on Kerridge Way, Holt for the majority of the day. The structure is extremely unstable. We would urge members of the public to avoid the area. There are small pockets of inaccessible fire we are working to extinguish. pic.twitter.com/EiC8GpXibP

— Norfolk Fire and Rescue Service (@Norfolkfire) June 21, 2020
North Norfolk MP Duncan Baker, who previously worked at the business, pledged support for the business and staff, and highlighted the impact on the community.
"Many of those who work at Budgens are my friends and former colleagues of many years, and I share their profound sense of loss. For our town to lose a supermarket, Post Office, cash machine, and laundry facility in a single night will have far-reaching consequences not only for Holt's residents, particularly those who have been shielding or self-isolating due to coronavirus, but on North Norfolk's food suppliers and the wider area too.
"I have requested that North Norfolk District Council provides free car parking in the short term to help the local economy recover from the consequences of the devastating fire. We also discussed the need to provide ongoing support for Budgens staff; our support, if required, to CT Baker with Post Office provision; and to provide assistance for the self-isolating and most vulnerable with shopping supplies."
A crowdfund created by the community to support the staff has already raised more than £2,600.