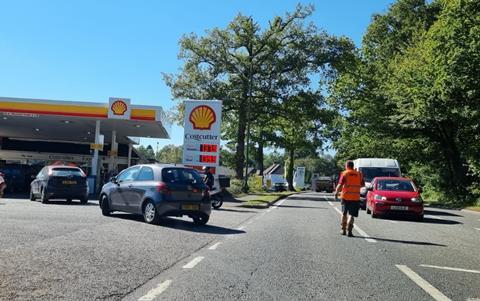 Workers' union USDAW has called on consumers to show respect to forecourt staff and not direct abuse towards them during the ongoing fuel crisis.
This comes as the UK is suffering a shortage of HGV drivers that has led to fuel not making it to retailers quickly enough coupled with panic buying due to media reports on the situation. Forecourt operators are reporting massive queues and in some cases are having to ration the amount of fuel per customer, leading to frustration amongst shoppers.
USDAW general secretary Paddy Lillis said no staff member should have to tolerate abuse from customers. "It is deeply disturbing to see panic buying back and it reminds us of the dark days of the first lockdown. During that period retail staff suffered a doubling of abuse from customers and we do not want to see that repeated. Abuse should never be just a part of the job and there is no excuse for customers to take their frustrations out on staff."
Lillis added the government should be held accountable for the fuel situation.
"The empty shelves and empty petrol pumps that we've seen this week are entirely the fault of the Government and their complete failure to get a grip on supply issues. Yet who takes the brunt of people's frustrations? It's not Boris Johnson. It's over-stretched, underpaid, exhausted workers who are doing their best in extremely difficult circumstances. The Government must take responsibility for this crisis."
The Association of Convenience Stores also called for respect for forecourt staff as tensions and queues mount.
Just spoke to @IanKingSky for @ACS_LocalShops about the current fuel delivery issues. Two main points:

Shortages are being caused by big increases in demand from consumers, not a shortage of fuel.

Please be kind to colleagues at fuel sites, they deserve respect #ShopKind

— Chris Noice (@ChrisNoice) September 27, 2021