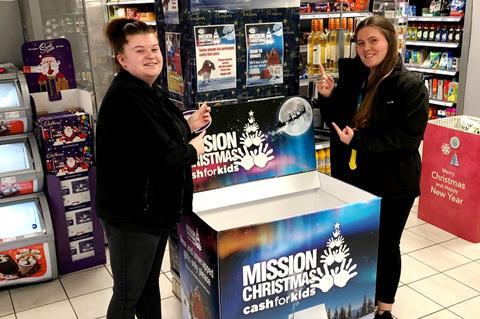 Co-operative stores in Romsey and Southampton have made it their mission to make it a special Christmas for as many children as possible.
As part of this year's Southern Co-op Mission Christmas appeal, staff have organised a £500 donation, £500 worth of gifts, collection points, volunteering in the warehouse, collecting up donations and supplying essential tea, coffee and biscuits for the volunteers.
Less than a fortnight into Wave 105's Mission Christmas 2021 appeal, they had received applications for gifts for more than 17,500 children across the south. The mission is part of a huge Cash For Kids gift appeal which is set to help 220,000 youngsters across the UK - the equivalent of nearly £10m worth of toys.
Charity manager for Wave 105 Cash For Kids Sam Tanner said: "We are really grateful to all 14 Southern Co-op stores as they have really pulled out all the stops to help our Mission Christmas appeal.
"They donated treats and drinks for all our volunteers and are volunteering in the warehouse on Tuesday 14 December.
"Special thanks to Holbury store manager, Will Baddick, for inspiring the other managers and collecting all the donated gifts and delivering them. This really is a community effort to support local children who would have nothing to open on Christmas Day."
Collection points for Mission Christmas are available until Thursday 16 December at The Co-operative Food stores in Holbury in Long Lane, Lyndhurst in High Street, Milford on Sea in High Street, North Baddesley in Seymour Parade, Romsey in Abbotswood Common Road, Romsey in Botley Road, Romsey in The Hundred, Romsey in Warren Gardens, Romsey in Winchester Hill, Southampton in Archers Road, Southampton in City Gateway, Southampton in Commercial Road, Southampton in High Street, and West End in the High Street.
The colleagues at these stores are supporting Mission Christmas as part of Southern Co-op's Love Your Neighbourhood programme which aims to create greener, healthier, safer and more inclusive communities.
Area manager at Southern Co-op Daniel Haynes said: "I couldn't be prouder of my teams for working so hard to make this a special Christmas for as many children and teenagers as possible.
"This isn't the first year we have been involved but it is the first year where it has been such a team effort. We'd also like to say a massive thank you to all of our customers who have made a donation. Every present will make a difference."