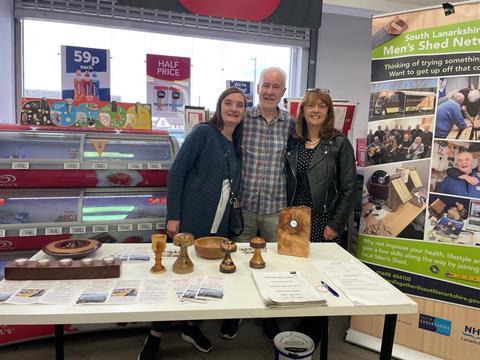 The Scottish Men's Sheds Association (SMSA) has teamed up with Scotmid for Men's Health Week (13 – 19 June 2022).
The retailer invited 'Shedders' into stores to help raise awareness of Men's Sheds at a community level and to broaden awareness of the wealth of benefits Sheds bring to men's overall health and wellbeing.
The Men's Shed aims to encourage men to have open and honest conversations around mental health, to help tackle loneliness and wider challenges they face and feel unable to talk about.
Carluke Men's Shed popped up in Scotmid's Law store to chat to customers and answer any questions they had about the charity and the products they produce. The SMSA now has over 129 sheds open across Scotland, with 72 further sheds proposed or in development. One of the charity's core objectives is to put an emphasis on how important it is for men to connect with their local community.
Shirley MacGillivray, head of communities and membership at Scotmid, said: "We are delighted to team up with the SMSA to raise awareness of Men's Sheds during this important week. We recognise the part we can play to improve the health and wellbeing of our employees and the communities that we serve, and this is the perfect way to mark and support Men's Health Week in our Scottish stores."
Scotmid has previously been a SMSA award sponsor, supports many sheds across Scotland and welcomes Community Grant applications from individual Sheds.
Jason Schroeder, SMSA chief executive officer, said: "The SMSA is working in partnership with Scotmid to offer this excellent opportunity for Sheds to showcase the services and facilities that they have to offer men aged 18 and over. It's important that we encourage men to get together within their local community and connect with each other. After all, conversation is hugely important for our health and wellbeing."