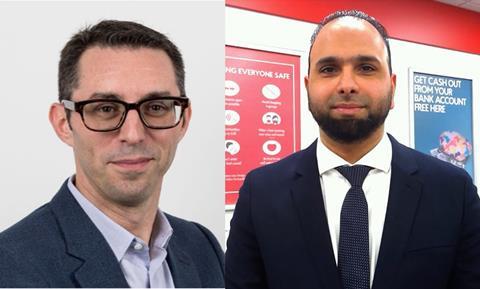 Two serving postmasters have been elected to the Post Office Board as non-executive directors.
Saf Ismail who operates six post offices in Lancashire and Greater Manchester; and Elliot Jacobs who operates seven post offices in London and Hertfordshire have been elected to the board.
This is the first time in the Post Office's 360-year history that serving postmasters have served on the board.
There were six candidates contesting the election and the electorate, made up of around 8,000 serving Postmasters and multiple partners. The election process was run independently by Civica Elections Services.
Initial applications were assessed by independent recruitment specialists Green Park, with 12 candidates put forward for interview to an independent panel comprising leading industry figures including Association of Convenience Stores CEO James Lowman, Co-op Group CFO Shirine Khoury-Haq and Council Member at the Institute of Directors Jean Church MBE. The panel shortlisted the final six candidates that contested the election.
Horizon scandal
The move is part of the Post Office's pledge to work with postmasters more in the wake of the Horizon scandal and "ensure that the experience and interests of 8,000 Postmasters are directly reflected in the decisions of the Post Office's main board".
Chief executive of Post Office Nick Read said: "I want to thank all six candidates for putting themselves forward for election and for a great campaign. Each had clear views about the challenges of running a Post Office and what needs to change to enable them to operate successfully, which is encouraging as we develop new ways of engaging with Postmasters. The independent panel made up of James Lowman, Shirine Khoury-Haq and Jean Church MBE ensured a strong set of candidates were on the ballot paper and I am grateful for their involvement in the first election to the Board in our 360-year history."
Following approval by the Secretary of State for Business, Energy and Industrial Strategy the Rt Hon Kwasi Kwarteng MP, Saf Ismail and Elliott Jacobs will formally join the Post Office board after an induction and training programme.
Chairman of the Post Office Tim Parker added: "We have ambitious plans to unlock the Post Office's potential so that by 2025 we are a sustainable and sought-after franchise. Having two serving Postmasters on our Board will help ensure our strategic direction is rooted in the reality of their experience and needs. It sends the clearest signal yet of our determination to ensure Postmasters are at the heart of our business."