National Convenience Show is back and a whole host of fantastic new products are set be on show when it returns to the NEC, Birmingham later this month (25– 27 April).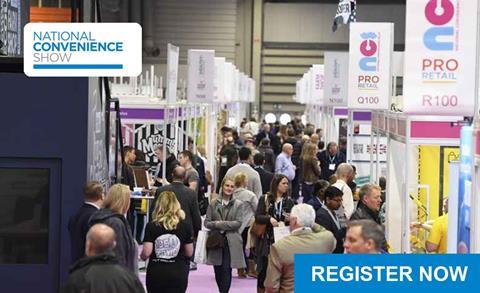 The event, part of the UK Food & Drink Shows, is a must-visit occasion for the industry. Expect a bustling show floor full of the latest trends, products and innovation. We've rounded up some of the most exciting products to be seen, in no particular order:
America's No.1 selling iced tea and juice brand AriZona Beverages (Stand M50) is unveiling a new flavour for the UK market at this year's show. It is celebrating its 30th anniversary and launching an African Rooibos Red Tea – the brand's first. This new Red Tea has been created with the help of Nelson Mandela's Long Walk to Freedom Foundation.
Creating an interactive customer process in an intuitive way has been the focus for Pan Oston B.V (Stand K60) who will be exhibiting its highly customisable ESSENCE Self-service Solutions. With a modular and component-based design that can be tailored to align with customer's needs, the ESSENCE is the most flexible self-service solution on the market, ready for checking out, self-order, registration and much more.
Chicago Town Pizza (Stand G51) has created a product with a vital role in unlocking more day parts and driving meal deals with their new self-serve quarter slice holder. With a perforated bag allowing the pizza to breathe while still retaining freshness, it can be displayed flat or upright and achieve up to 3 hours hold in leading heating merchandisers.
With 100% recyclable packaging and carbon neutral credentials, Candy Can (Stand M50) is debuting its sparkling candy flavoured drinks. Containing zero sugar, preservative free, and available in a range of six fun flavours, the range includes: Marshmallow, Bubble Gum, Sour Apple, Birthday Cake, Rocket Ice Lolly and Cotton Candy. Coming to 300 Sainsbury's stores this May – stop by the stand to be the first to try these out!
HL Display will be showcasing its Sigma™ Shelving for Fresh Produce (Stand L110), a modular merchandising system tailored to create stunning visual displays and abundant presentations to showcase more variety of produce without the need for large inventory that can be lost through shrink. Key for driving sales, it showed up to 30% sales increase in test stores.
Charlie's Organics (Stand M50) is a carbon neutral, healthy soft drinks brand which launched in 2021 in the Netherlands and will be making its debut in the UK at the National Convenience Show. By using aluminium cans, instead of plastic bottles, each container is endlessly recyclable, and Charlie's Organics have partnered with the charity Trees for All which plants forests around the world to counter climate change and offset carbon emissions.
Epicurium (Stand G119) has added multiple innovative new brands to their range, adding to the 150 specialist brands already available for Independent Retailers. Nuud is a pioneering plant-based chewing gum that is 100% plastic-free. Using a sustainably harvested tree sap, only plant-based ingredients, containing no plastic wrapping and with its compostable and biodegradable wrapping, the gum looks to support retailers by offering a more sustainable range.
After taking Denmark by storm, Food Union (UK) (Stand M98) is bringing its low-calorie ice cream – Underground – to the UK. With natural, high-quality ingredients and bold, full flavours, this tasty dessert allows consumers to satisfy their cravings without compromise.
An innovative solution by Glory Global Solutions (Stand K50), the Compact Cash Recycling System CI-10 removes cash-handling at the point of sale. By automating cash handling, this minimises risk of errors whilst enhancing productivity and customer service.
Smart Soda UK Ltd (Stand D20) will be showcasing its On-the-Go Healthier Drinks Station, offering the world's first in-store, on-the-go healthier drinks touch screen dispensers. Delivering vitamin-infused, flavoured sparkling alkaline waters and sodas made with reduced British beet sugar or no sugar at all. All drinks are vegan, antioxidant-rich, gluten-free and can be boosted with unique functional shots – energy, immunity and relaxation.
Andrew Reed, managing director events & exhibitions said: "The amount of new products, innovative thinking and original ideas set to be on show at National Convenience Show later this month is staggering. Come with an open mind about what you might find because there's bound to be something new, exciting and different around every corner."