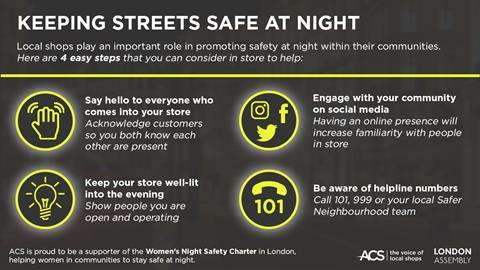 The Association of Convenience Stores (ACS) has signed up to the Women's Safety Night Charter, which is part of the London Mayor's 'tackling violence against women and girls' strategy.
Though it is a London-based initiative, local shops in all areas are being encouraged to take part, to ensure the safety of everyone entering their stores.
The charter includes pledges and practical steps that businesses can take to help women to feel safer at night, including:
Say hello to everyone who comes into store
Keep your store well-lit into the evening
Engage with your community on social media
Be aware of helpline numbers
ACS chief executive James Lowman said: "Local shops operate in the heart of our communities and we make places safer for everyone through being open long hours, through the investments we make in the places we trade, and through the professional and caring people who run and work in these stores.
"Around one third of convenience stores are open after 10pm when it is dark and the surrounding area is at its quietest which means people may feel more vulnerable. Through taking a few simple steps, local shops can contribute to helping women to feel safer at night."
Rita King, joint CEO of Safer Business Network added: "We operate Business Crime Reduction Partnerships across eleven London Boroughs and have recently carried out a scoping exercise on behalf of the GLA and MOPAC to re-engage with signatories of the Mayor of London's Women's Night Safety Charter. We very much welcome this latest action spearheaded by the Association of Convenience Stores to support the Charter. Local shops play a vital role in their communities and are well placed to offer assistance to women who may be feeling vulnerable. We hope that many stores all over London will engage positively to help keep women safe at night."