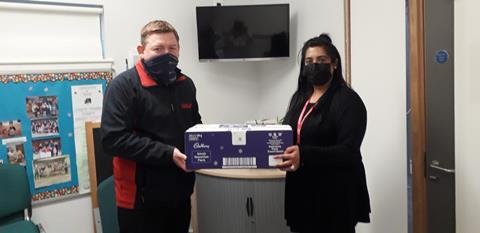 KeyStore is encouraging retailers to support their local food bank in the run-up to Christmas by placing over 250 dumpbins across their stores for customers to donate food and other items.
This is the third year the initiative has run, and from now until Christmas customers will be welcome to donate non-perishable food products, as well as things like toiletries, sanitary wear, baby supplies and laundry products.
Craig Brown, chief sales and marketing officer at JW Filshill, said: "Our Christmas food bank campaign has been hugely popular with KeyStore retailers with many now supporting their local food bank throughout the year, not just during the festive season.
"In an ideal world no-one should have to use a food bank but sadly they are under more pressure than ever before. So placing a wire dumpbin – which we supply free of charge – in an empty space in their store is an effortless way for retailers to support their local community and help those in need.
"We have already made a massive difference to many communities across the length and breadth of Scotland and the north of England."
KeyStore is also inviting retailers to engage with children's nurseries in their area by donating Christmas selection boxes after Chris Watson of KeyStore Corseford in Johnstone, met with his local nursery and discovered that they do not receive the same financial support as primary and secondary schools.
Filshill kickstarted its nurseries campaign by donating 200 cases of selection boxes to Moorpark Early Learning and Childcare Centre in Renfrew, a nursery close to the wholesaler's new office and headquarters which is due to open in early 2022.
"This is another great festive campaign for us and was inspired by Chris Watson who is active in his local community all year round and told us that nurseries typically get less funding than schools," said Mr Brown.
"We're delighted to get on board with a campaign that will put a big smile on little faces in the run-up to Christmas and we are particularly pleased to support Moorpark ahead of Filshill's relocation to Westway Park near Glasgow Airport next year.
"Retailers who engage with their local community build long-term customer loyalty and reap the rewards in terms of additional sales and footfall – and both our food bank and nurseries campaigns are prime examples of community engagement at its best."