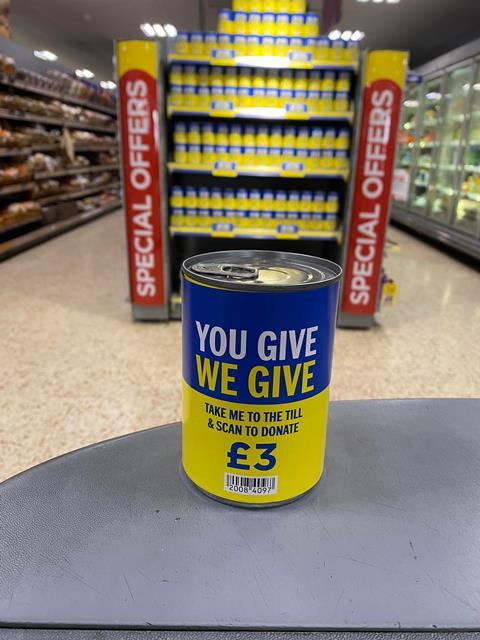 Budgens retailers have joined forces to fundraise for Ukraine.
The 'You Give, We Give' campaign launches on the 8 April in 22 participating Budgens stores and for every £1 customers donate, the participating retailer will match that donation.
To participate, customers can purchase any blue and yellow symbolic cans with a price mark £1, £3 & £5 and the retailer will match that donation. All donation money will be spent on essential food supplies and delivered straight to Ukraine by selected aid partners.
The initiative was set up by Dary Sweeney of Sweeney's Budgens in Bucks.
He explained to ConvenienceStore.co.uk why he created it. "One of my customers asked for donations of toiletries for parcels they were sending to Ukraine children displaced by the war. What we contributed seemed so little and I wanted to do more. I spoke to two other retailers Paul Gardner, in Islington and David Knight in Hassocks about what I was proposing to do and they liked the idea and wanted to do the same so we came up with a campaign that would work for all of us.
"It just snowballed when some others heard what we were doing. I was stunned how generous my fellow retailers were and how keen they were to support this appeal," said Dary. "Like everyone else in this country, we felt helpless about the shocking war in Ukraine and wanted to do more. We knew our customers would like to help too.
"This has been one of the most rewarding projects I have been involved with for a very long time. It puts Budgens at the heart of the community, our only interest is to help the children and families of Ukraine as much as we can."
The stores involved in the campaign are Abbots Langley, Abridge, Bedford, Bridgewater, Brize Norton, Buckingham Park, Dodinghurst, East Finchley, Frome, Hassocks, Hennfield, Holbrook, Islington, Marlborough, North Bradley, Portland, Steyning, Three Mile Cross, Wembdon, Wendover, Witney and Yarnton.