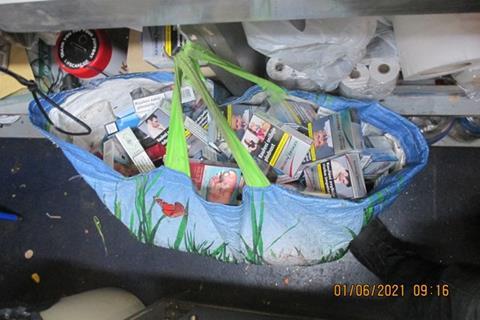 A retailer in Bradford has been sentenced to 28 days in prison for selling illicit cigarettes and tobacco.
On the 15 March 2022, Mohammad Riaz from Bradford appeared at Bradford Crown Court for selling illicit cigarettes and hand rolling tobacco from Sunrise Supermarket.
He had previously pleaded guilty to all charges and was sentenced to 28 days immediate imprisonment.
On 1 June 2021, an inspection was carried out at Sunrise Supermarket following received intelligence about the store, with illicit tobacco seized from within the business, hidden behind the counter, and also from boxes of stock stored on the shelves and from within the loft space accessed via a pull down ladder in the rear stock room. A total of 32,520 cigarettes and a total of 116 packets of 50g Hand Rolling Tobacco was seized from the shop.
The total street value of the seizure is around £12,000. The seized illicit tobacco products were counterfeit, did not bear the statutory health warnings, were not in the standardised packaging and were non-duty paid.
A large quantity of cash was also seized which was believed to be the proceeds from the sale of illicit tobacco products.
Linda Davis, West Yorkshire trading standards manager, said: "Far from being a victimless crime, the illegal trade in tobacco costs government millions each year in lost revenue, makes it easier for children to start smoking, takes advantage of cash-strapped families, and helps fund organised crime including human trafficking. This sentence should be a warning to others who supply illegal tobacco. I would like to thank all the partners and members of the public for reporting illegal sales and encourage everyone to continue doing so to reduce the harm caused by tobacco in our communities."
Councillor Sue Duffy, deputy chair of the West Yorkshire Joint Services Committee which oversees the work of Trading Standards, added, "We want to see health improvement in this county and with poor and disadvantageous communities and young people often the target of this cheap tobacco, it does not encourage people to quit. Offenders need to know that they will face consequences if they choose to deal in these illegal products."
If you need to report a trader selling cheap and illicit tobacco please contact the Illegal Tobacco Hotline on 0300 999 0000 or report it at https://keep-it-out.co.uk/ anonymously.