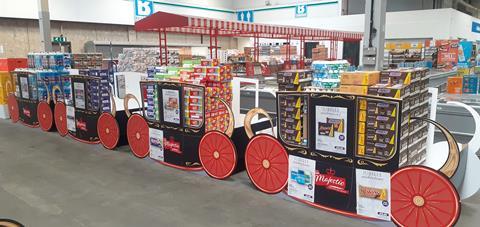 Bestway has launched a new promotional campaign for the Queen's Platinum Jubilee, investing £250,000 across all of its depots.
In collaboration with key suppliers, the 'Majestic Palace' campaign has been designed to create theatre, fun, and visual appeal – and sees a large, pre-fabricated palace opening its doors within the main thoroughfare of its depots surrounded by chariots, horseman guards and, of course, the Queen's 'Jewels'.
The campaign features branded individual rooms with key product pallets from suppliers including Heineken, Coca-Cola, Britvic, Mars Pet and Nestlé. There will also be 'Tobacco Rooms' with tobacco and vape products from suppliers including Imperial Tobacco, JTI and Juul.
Large digital screens will highlight special products, retailer promotions and supplier content. The campaign will also be supported by a series of competitions including best depot display and various supplier competitions with some great prizes to win.
Bestway is also supporting The Queen's Green Canopy Initiative by inviting suppliers to support retailers by sponsoring the planting of trees in their area. Bestway has confirmed that it will match all donations made by suppliers.
The promotion will run until the Queen's Jubilee Bank Holiday on Friday 3 June.
Trading director at Bestway, Kenton Burchell, said: "We're looking to create more theatre and excitement in the depot for our cash and carry customers. If we can generate that level of enthusiasm and inspiration with the retailer in depot, then they'll get behind it in store, which will help grow their sales.
"The key is having the right product at the right price and having the theatre to bring it to life. These things co-exist. One thing on its own is not going to optimise the opportunity."