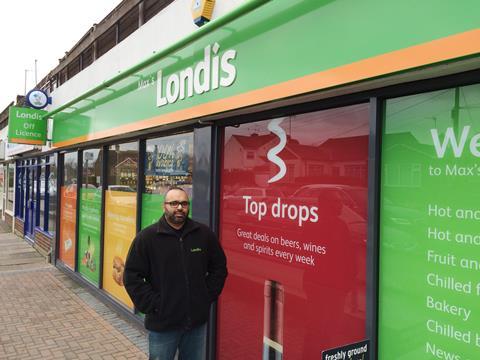 With 25 years of successful trading under its belt, Jatinder Sahota's family-owned Londis on the Isle of Sheppey in Kent looked to the future with a major revamp at the start of 2015. New ceilings, floors, shelving and energy-saving chillers with doors were all fitted, and the entrance moved to improve customer flow. At the heart of the change was a desire to keep a handle on costs, and so energy-efficient equipment, technology and staff training became central to the plans. The results have been terrific, with total sales up 25% year-on-year to more than £27,000 a week - impressive for just 1,200sq ft.
WINNER
Champion of Energy Efficiency
Jatinder Sahota's ambitions in energy efficiency underpinned his ambitious store expansion and refit project last year and earned him the title Champion of Energy Efficiency at the Convenience Retail Awards 2016.
Despite having doubled the amount of chilled space in his small store to more than 20 metres, energy bills are down £300 a month. All 20m of chillers have been fitted with energy-efficient doors and all lights are LED.
Staff have also received energy efficiency training and understand the importance of switching off lights, fully closing hot water taps and reporting any issues that they come across.
Energy efficiency
All 20m of chillers have been fitted with energy-efficient doors, a combination of new Delta Total Vision Acrylic door multidecks, and retrofitted Total Vision doors.
The condensing units were replaced with an energy-efficient pack system.
Lights are now LED, with striking pendant fittings in the fresh food aisle.
Beers, wines and spirits chillers have smart timers, which switch chillers off when the store closes and just before it re-opens.
Different fridges operate at different temperatures to be as efficient as possible. While the fresh meat chillers run at about 0.50C, fruit and vegetables are slightly higher at 50C and BWS at 80C.
All chillers are connected to a smart alarm system which alerts Jatinder to breaches in temperature limits.
Food to go
The store re-ranged to become more mission- focused and now includes a larger food-to-go offer, including a wide range of pre-packed sandwiches and a Tchibo coffee machine.
Thanks to the addition of a new hot food-to-go offer, food to go is now a key area and sales are up 30% year on year. Jatinder is hopeful that his successful food-to-go offer could offset any potential decline in visit frequency as a result of the tobacco rules banning the manufacture of small cigarette and roll-your-own packs.
Range
The refit followed extensive customer research to find out what local people wanted from the store. As a result the fresh food range has more than doubled in size as chiller space increased from 10.6m to 20m – significant for a store of just 1,200sq ft.
The first aisle is devoted to fresh food including a full evening meal solution and desserts.
The BWS section increased from 5m to 10m and features more ales and beers.
Jatinder moves his promotional bins around throughout the day. In the mornings promo bins are placed in the fresh aisle to target parents, in the afternoon they are moved to the ambient aisle to target older shoppers, and in the evenings they are placed near BWS to make the most of the Big Night In shopper.
Teamwork
Staff are trained by Jatinder himself, who maintains a strong presence on the shop floor and behind the counter.
Jatinder and wife Randip strive to make the store a fun place to work, with regular team days out including a BBQ and Christmas party.
Staff are allocated areas of responsibility and have individual performance targets which are regularly reviewed, helping to maintain high standards.
This year Jatinder plans to introduce a target-based bonus scheme for staff.
The store works closely with a range of suppliers including Mars, Pepsico, Imperial Tobacco and Heineken to improve range.