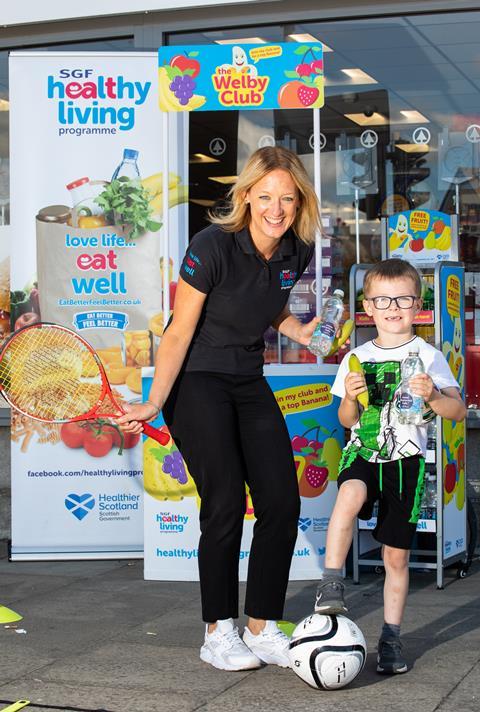 Spar Scotland continued with its promotion of the Healthy Living Programme (HLP) by operating a Commonwealth Games Roadshow aimed at school children in five Spar stores around the country.
Last week primary school children were participating in outdoor warm up and sporting activities outside of stores, as well as taste testing and attempting to name some unusual and exotic fruit from the Healthy Living sampling table.
Spar Scotland also gave away fresh fruit and bottles of Spar Still Water from Spar stores in Mastrick, Glamis, Blantyre, Abronhill and Alloa.
Zak Razzaq of Spar Blantyre said: "We always enjoy welcoming the Healthy Living team to our store in Blantyre. We have had several visits over the years, and it has always proved to be a popular event. It gives us a chance to promote healthy eating in our community. As the commonwealth games are in the UK, it allows us to encourage our local children to participate in some fun sporting activities at the same time."
The Healthy Living Partnership encourages children to eat more fruit and enjoy a healthier lifestyle. Working alongside the Healthy Living Programme is a great way for Spar Scotland stores to connect with local communities and give something back to local people.
Kathryn Neil, programme director, SGF Healthy Living Programme, added; "We are delighted that Spar Scotland are using the Commonwealth Games as an opportunity to encourage children to get active throughout the summer holidays. Many children within the communities are benefiting from the free water and fruit that Spar Scotland are providing. HLP are pleased to be involved in facilitating the fun events and having the chance to speak to children about the importance of leading a healthy lifestyle."
The Healthy Living Programme has been working with convenience retailers since 2004 and highlights that fresh fruit and vegetables and healthier products are available in convenience stores.
The programme is fully funded by the Scottish Government and aims to connect local schools with convenience retailers. So far, they have engaged with over 13,000 school children across the country.