The likes of Subway have led the way in terms of foodservice partnerships with c-stores. However, with the food-to-go market intensifying, retailers are also looking to emerging brands to provide them with a fresh point of difference. C-Store looks at what's on offer
Retailers looking to capitalise on the burgeoning foodservice channel have a choice: either go it alone, or partner with a specialist brand. Many c-store operators, such as former CRA winner Scott Graham of McLeish, Inverurie, have established their own successful foodservice operations to great acclaim. However, there is a wide choice of branded foodservice specialists lining up to partner with c-stores, from multinational household names such as Subway, to up-and-coming Asian-style brands.
Recent research by the NPD Group found that consumers are now more likely to spend their money at branded food-to-go outlets - the market share for brands versus independents in terms of number of visits was 43% to 57% eight years ago; as of the year ending September 2016 brands led by 56% to 44%. The research also shows that brands enjoy strong pricing power, enjoying a 16% rise in the average bill per person over the past year years as against 4% for independents.
Here is an update on some of the up-and-coming foodservice brands which operate in partnership with c-store retailers, as well as a round-up of the more established ones.
INSOMNIA
Coffee on the go is now big business in convenience - in fact, 19% of UK consumers who buy coffee on the go regularly buy from convenience stores, according to new research by One Poll, in collaboration with Nestlé Professional. Consumers increasingly expect a quality product - the same survey found that quality is the most important factor for purchasing decisions (33% of respondents). And the value of a seating area is underlined by research from Allegra World Coffee Portal which forecast that coffee shops will outnumber pubs by 2030, and that boutique chains are "driving sales of premium quality coffee".
Spar is in partnership with Irish coffee brand Insomnia, which is dominant in Ireland but nascent in the UK. The brand, which offers bean-to-cup and a full café option, is increasing its presence in English Spar stores.
Spar Calver in Derbyshire replaced the adjoining unbranded café with an Insomnia coffee shop about 18 months ago. Manager James Stead says: "After a slow start it really picked up and sales are increasing weekly. The whole procedure has been really good - the company comes in at the beginning and checks it's viable.
"Footfall has doubled on the previous café. Insomnia is perceived to be better quality with a focus on sandwiches and quality coffee."
Mark Cleary has just opened a new Spar store with Insomnia coffee shop in Walkden, near Manchester. "I was first inspired to introduce the Insomnia brand after going on a study tour to Ireland last year," he says. "It seemed like a great concept, with quality coffee. We also serve sandwiches and pastries and such like; it's a proper café."
The café is part of a new build including the 2,000sq ft store. "Everything's branded so it looks really professional, and they provide full on-site training to the staff. It's a real game changer - people are using it as an out and out coffee shop and using the wi-fi and watching the TV, and then they'll do their shop. Lots of mothers come in with their kids after the school run, too."
CHOZEN NOODLE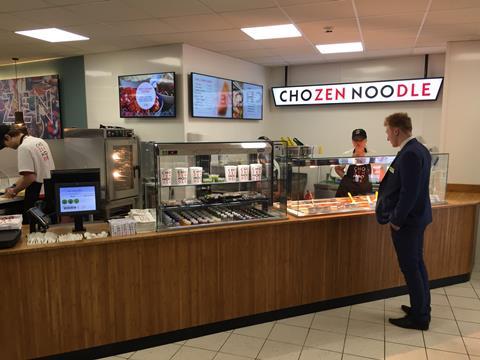 Health and "freshness" are other driving forces in foodservice nowadays. The MCA Food to Go report 2017 revealed that 'branded contemporary fast food' is the fastest growing channel in food to go, increasing its market share from 0.8% to a predicted 1.6% in 2017. This trend is driven by consumer trends towards convenience, quality, adventurousness and healthier consumption, the report notes.
Chozen Noodle is an Asian-inspired food-to-go and fast-casual dining franchise which has partnered with The Midcounties Co-operative at the society's Leamington Spa store in Warwickshire.
"We offer a great balance of healthy food," points out Matthew Kirby, director at Chozen Noodle. "We're able to offer quality Asian food at quick-serve prices. It's something a convenience operator can use to compete with."
The menu ranges from spicy chicken to classics such as red Thai beef, vegetarian green Thai curry, sushi and sashimi, udon and salads, to take away and to eat in.
A spokeswoman at The Midcounties Co-operative Food says the Leamington Spa franchise "has proved a real success with customers and is performing beyond our expectations". Midcounties is also now working with Deliveroo, which accounts for about 25% of Chozen Noodle sales at the store. It is reviewing opportunities to introduce more franchises like Chozen Noodle across its estate.
Kirby adds: "It's brought more shoppers in to the store in Leamington Spa and hasn't affected additional hot food-to-go sales."
He says the brand is interested in partnering with other convenience store retailers in the right circumstances. "We'd look at partnering with other retailers if it makes sense to us. It has to be right - you need high footfall and a strong location, and you need the right demographic. We see convenience as a really interesting channel."
Owner CP Foods has trained the society's staff to run the franchise.
MAIDO SUSHI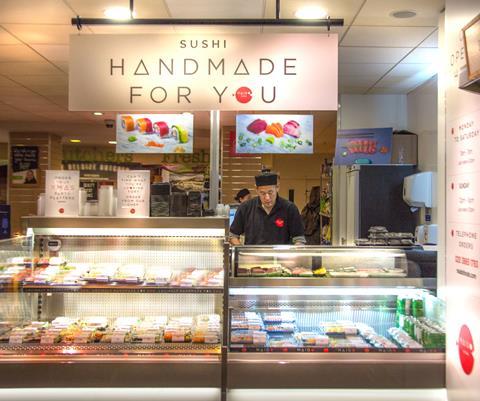 Andrew Thornton, owner of Budgens Belsize Park in north London, says he wanted to bring in local brands for categories in which he lacked expertise, including sushi.
"We identified the need for a concession strategy a couple of years ago, in which we needed to bring in products that were relevant to our community, but which we didn't have experience of. These concessions included sushi butchery, juice, a florist and artisan coffee. We have found partners for all these area now, including Maido Sushi. All our partners our local. We're not interested in national brands as it's not our demographic."

After introducing Maido Sushi in the latter part of 2016, the concession is now turning over more than £8,000 a week, contributing to an 8.5% year-on-year increase in store sales. "As a result of Maido we have seen new people who have become regular shoppers," Andrew adds.

Jonathan Green, Maido Sushi partner, is looking to open more locations in c-stores. "The benefit for a retailer wishing to open a concession such as ours is that we can provide our skilled expertise in the provision of authentic and delicious Japanese sushi at competitive pricing, made fresh on site by our professionally-trained chefs every day."

Customers can "grab and go", ordering on the spot or via telephone.
FRESHII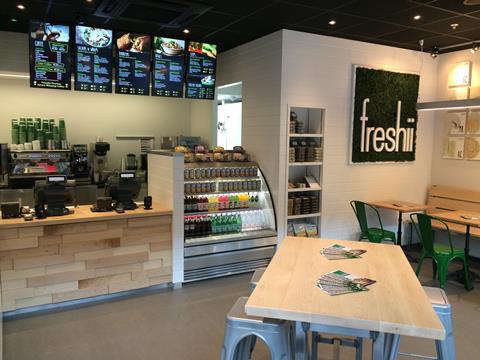 Canadian 'fast-casual' dining brand Freshii is also looking to partner with c-store operators in the UK. Freshii, which has 240 branches globally including in Ireland, has signed entrepreneur Anil Patil as its UK franchise partner.
Its menu includes salads, wraps, burritos, frozen yogurt, soups, juices and smoothies. Patil describes the food as "great for you, affordable, and convenient".
"We're definitely interested in linking with convenience stores," he adds. "We're looking to establish a presence in London and beyond."
SUBWAY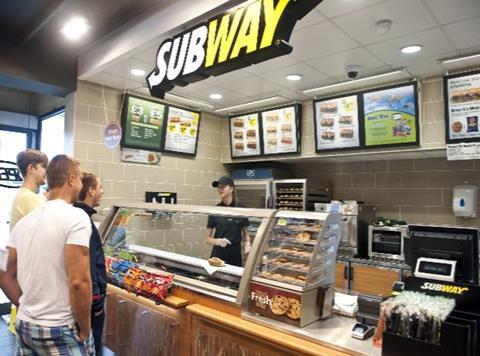 Subway is well established in the convenience sector and remains a key growth area for the brand. It currently has 590 outlets in c-stores and petrol forecourts across the UK, and 2,500 stores overall. It is currently developing an in-store ordering kiosk designed to reduce queue times, as well as a web portal enabling customers to order before going to the store. A delivery platform could be on the cards in late 2018, but c-stores would require the necessary space to accommodate it. In the meantime, the brand is able to adapt to a store's layout and size due to its operational simplicity, a spokesman says.
Mohammed and Raeesah Jassat opened a Subway franchise in Eden News, their unaffiliated c-store and post office in Urmston, Greater Manchester, in 2015. Mohammed explains: "We were drawn to Subway as its brand image is so strong and it has such a high awareness among consumers. It has brought in a different clientele - the post office has always attracted more elderly people, but now we're getting the young crowd into Subway. It's had a big impact on footfall."
GREGGS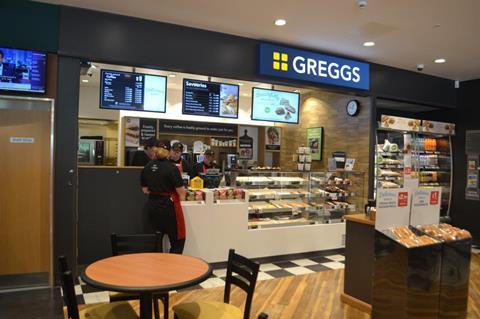 Greggs operates 181 franchise stores in the UK, mainly in petrol forecourts and motorway service areas. It also has franchises in four Blakemore Retail convenience stores, but says it currently does not offer franchise partnerships to independent retailers.
In most Greggs forecourt operations it operates within a c-store alongside other food-on-the-go retailers. The estate is growing at about 45/50 stores per year.