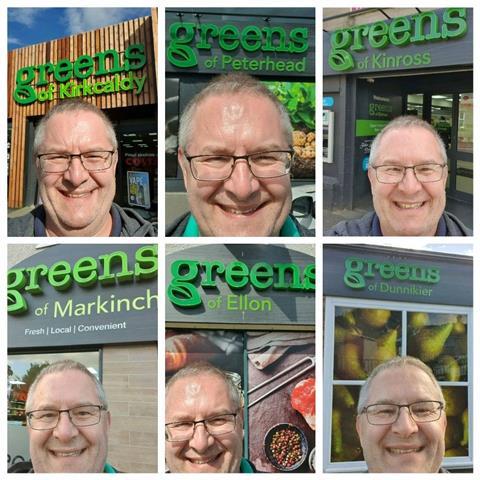 Eros Retail, which will be renamed Greens Retail at the end of the month (May 2022), has appointed former Jempson's supplier business and marketing manager Dominic Plomer-Roberts as its new supplier relationship manager.
He has spent his induction week visiting the group's stores and told Convenience Store he is "very excited" to be taking on the role.
"I'm very lucky to have been given the opportunity to join Harris," he said. "When I was speaking with him when I started, I asked him if there are any limitations and he said 'no - if it works, do it'. I love the fact he has the trust and passion in his colleagues to, if they come up with ideas, and it could be beneficial to the business to do it, implement it."
He told his LinkedIn followers: "After nearly 13 and a half years at Jempson's I have made the decision to say "Goodbye" and move onto pastures new.
"During my career I've been fortunate enough to have worked with some phenomenal people, and had some wonderful experiences along the way. I am immensely proud of everything I have achieved during this time, as well as the relationships I have established.
"Am delighted to share that I will be joining Harris Aslam and his team at Eros Retail as 'Supplier Relationship Manager'.
"This is a really exciting time for me. I respect and admire Harris for what he has accomplished, his passion, as well as the business plan to drive the company forward. It is a privilege to have been given the opportunity to join his team, during such an exciting phase, I can't wait to get started. I look forward to continuing, developing and establishing new relationships."
Harris responded: "Dominic - a very warm welcome to Eros Retail & Greens! It's been a pleasure watching you work from afar since we first met around eight years ago in a sector and role for which you clearly hold a great deal of passion.
"I'm sure you will be a huge asset to our team and look forward to applying a collective passion for food retail to ensure we are consistently delivering for our customers by developing amazing relationships with our valued supplier & manufacturer partners!"
Eros Retail is preparing for significant expansion, recently announcing plans to open 10 new stores over the next two quarters, with the aim of achieving £100m annualised sales within the next 24 months. As part of its strategy, the firm is taking on a new head of retail. Nisa retail development manager David Bateman is leaving his current role to start as Green's new head of retail in June.