Independent Spar retailer MK Vaish is praising the generosity of his local customers following soaring food donations to a local homeless charity during lockdown.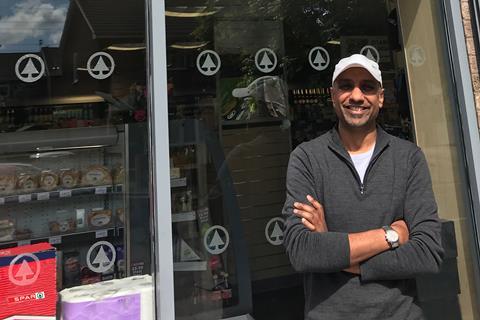 The weekly donations from customers, which are supplemented by the store's own donations, are acting as a true "lifeline" for many local homeless and vulnerable people who have been particularly hard-hit by the coronavirus crisis.
MK, who has three Spar stores in Greater Manchester, has been collecting and donating short-dated and damaged goods for the homeless charity Lifeshare for the past five years but says that customer support for the initiative has grown since lockdown, with many shoppers now sharing details of the weekly collections via social media.
Just last week his Spar store in Offerton donated 30 ready meals as well as fresh, frozen and long life produce to Lifeshare, while customers supplemented the haul with donations of tinned goods, bread, rice and other essentials.
Urging other retailers to join him in donating to their local food banks and charities MK said: "Homelessness is a particular problem in Greater Manchester and something that is very important to my regular Spar shoppers.
"For over five years now, Spar Offerton has been collecting short dated and damaged goods for Lifeshare to pick up and distribute to those most in need across the city.
"Since the beginning of lockdown, customers have also been donating products and sharing our collection through local Facebook groups. Produce can be anything from loaves of bread, fresh fruit and vegetables, cereal and tinned goods, toilet roll and sanitary products."
"The great thing is that Lifeshare can freeze short dated stock and create hot, nutritional meals with the ingredients. This partnership not only reduces the amount of waste in-store, it also reaches the most vulnerable people in my local community so I'm thrilled that we can work together to reach those most in need," MK added.
The coronavirus crisis has triggered an unprecedented demand for food banks, with some charities recording a 59% increase in requests for emergency help.
Thanking MK and his Spar customers for their support, Lifeshare operations manager Judith Vickers said: "Covid-19 has had a significant impact on those we support and has required us to change the way we operate, closing our face to face services to work remotely, distributing regular food parcels for those most in need.
"These donations are a lifeline to many of the clients we serve, including those who are homeless, living in temporary accommodation, escaping domestic violence, food and fuel poverty.
"Thank you to Spar Offerton for their continued support and Spar customers for generously donating."Community spirit and generosity is needed more than ever, and we are truly grateful for the support our local community offers, enabling us to continue this free lifeline for those greatly in need."