BP is to make its Wild Bean Café food-to-go proposition available to independent retailers.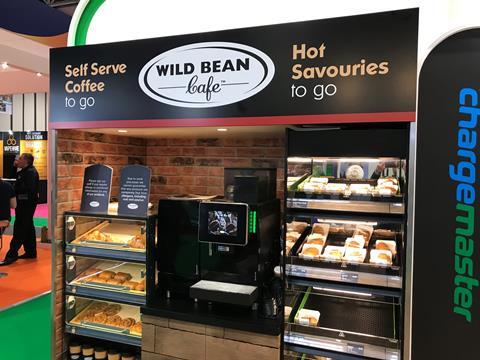 Subject to an agreed contract length and exceeding a minimum sales level projection, the Wild Bean Café franchise scheme will be available to independent dealers selling BP fuel later in the year.
The new format was unveiled at this week's Forecourt Show in Birmingham. BP is running pilots at independent stores over the next 3-4 months, with a full roll-out expected by the end of the year.
The proposition will be available in a modular format for maximum flexibility, ranging from a small, purely self-service unit to a fully-staffed serve-over option.
The minimum offer includes self-service bean-to-cup coffee, savouries and hot pastries, with additional modules including heat-to-eat snacks and freshly-prepared food and drinks in a serve-over format, and larger coffee machines with a choice of milks. Independent dealers will have access to the same staff training and food safety support offered to company-owned sites, accessed mainly via e-learning.
Wild Bean Café food implementation manager Martin Tolson told C-Store: "The market is in a significant period of change, with key challenges such as lower carbon usage and higher operating costs.
"Beyond the fuel supply, we want to help the retailer with other aspects of their business, and Wild Bean Café has 20 years of heritage, with a focus on quality and speed of service. It is very much designed for the customer on the move, so they can get coffee and food at their convenience."