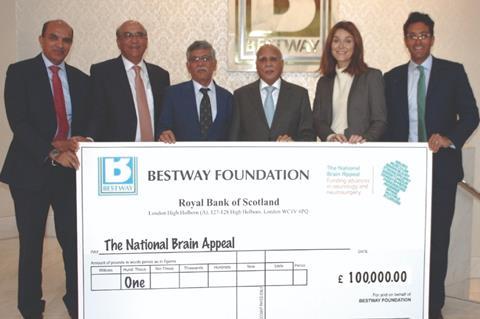 The Bestway Group has donated £100,000 to The National Brain Appeal through its Bestway Foundation.
Lord Zameer Choudrey CBE SI Pk, chief executive of Bestway Group, presented a cheque to Claire Wood Hill, chief executive of The National Brain Appeal at the Bestway Group's Head Office in Park Royal, London.
The donation was raised through Bestway's annual Ascot Charity Race Day held last year, which was attended by over 800 of Bestway's key business contacts including supllier partners, colleagues, press and charity.
Over 26 charities have benefited from funds raised through the Ascot Charity Race Day since it began in 1994.
Claire Wood Hill chief executive officer of The National Brain Appeal commented on the donation: "We are incredibly grateful to Bestway for supporting The National Brain Appeal. Our charity is dedicated to transforming the lives of the millions of people affected by neurological conditions. The £100,000 raised will help us to continue funding pioneering research, innovative treatments, and world-class facilities at Queen Square. We would like to extend our thanks to everyone involved in helping to raise this fantastic amount."
Lord Choudrey added: "We are absolutely delighted to support the work of The National Brain Appeal charity for the second time as it's a charity that is very close to our hearts. Charity is at the core of what we do here at Bestway – we are extremely dedicated to our social responsibility and incredibly committed to giving back to the communities within which we operate."
The Bestway Foundation has donated over £35m to charities, hospitals, schools as well as provided scholarships to universities since it was estalished in 1987.