Friends and colleagues from the convenience retail industry have been remembering Raj Aggarwal, who passed away last week after contracting Covid-19 coronavirus.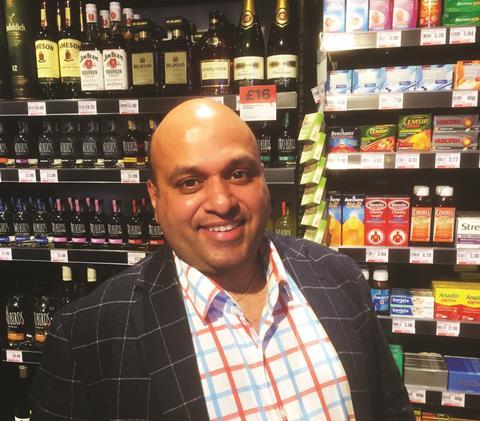 Raj ran Spar stores in Wigston, Leicester and Hackenthorpe, South Yorkshire, and was well-known in the local areas for community activity, such as weekly donations of food to the homeless. Only a couple of weeks ago he personally delivered supplies of food and drink to a local hospital in Leicester.
Such was the impact of Raj's life that news of his death was reported on ITV News as well as local news services in Leicester and Yorkshire.
Friends and family across the country joined in tribute at 1pm on Sunday to play Yeh Dosti Hum Nahi Todenge – a Hindi friendship song from the Bollywood film Sholay – in memory of Raj.
Dee Sedani, who runs One Stop franchise retail outlets in Derbyshire, had been a friend of Raj for 20 years.
"He was like a brother to me," Dee told C-Store. "I feel that this is the saddest news of my life. But wherever I go, he will live on in my heart."
With the dangers of coronavirus still very much present, Dee had a message for fellow retailers: "While we are in the front line, we also need to make sure we look after ourselves and stay safe. Of course we need to serve the community, but we also need to think of our own families and not take any risks with our health."
Close friend Sunder Sandher, who owns a One Stop franchise store in Leamington Spa, Warwickshire, used to speak to Raj every day on the phone and the pair always travelled together to industry events.
"He was always a happy person and, wherever we went, it was always a happy journey," remembered Sunder.
"He would always want to attend any forum or event where there were retailers present. He really liked mingling with other retailers, asking questions and coming up with ideas.
"His passing is hard to believe, really. Raj was such a great person and it is such a sad loss."
The Association of Convenience Stores issued a statement which summed up the thoughts of many in the industry:
"We were absolutely devastated to hear the news about the passing of Raj Aggarwal.
"Raj was an independent retailer, a fixture at ACS and other industry events, a member of our independents board, a great entrepreneur and most importantly a devoted family man.
"The Raj that many of his fellow retailers knew was a permanently smiling and chuckling man who lived life to the full and was always on the hunt for fun and experiences.
"This is a terrible loss that will be felt personally by many people in our industry, and it should also remind us: there are people putting themselves in harm's way to help the country through these difficult times, and to lose one of them in Raj is a hard thing to comprehend and accept."
ACS chief executive James Lowman added his own personal eulogy. "Raj was always such a positive, innovative guy. He ran his own stores successfully but was always looking to pick up new information and to try new things.
"Engaging is the word: Raj was very engaging with the people he met, and also very engaged with the industry and its issues overall."
Jerry Marwood, group commercial managing director at Spar wholesaler AF Blakemore, paid tribute to Raj: "The feeling of sadness that has overwhelmed our team at Blakemore's since hearing of Raj's passing is testament to the role that he played in the life of our business. Whether as a guild board representative, a customer or friend, Raj was ever present in the world of Spar and convenience retailing - to say that he will be missed by all of us is an understatement of massive proportion."
Louis Drake, Blakemore Trade Partners sales director, and Sarah Ellis, AF Blakemore group marketing director, also added their tributes:
"Raj was not only one of our retail colleagues, he was a real supporter of both the Spar brand but also the independent retail sector," said Drake. "Attending meetings and events representing not only himself but most importantly his fellow retailers ensuring that their voice was heard."
Ellis added: "Raj was an innovator, constantly looking to understand what would be the next thing that he could bring to convenience, working in partnership with retailers, suppliers, his community and with all of us here at Blakemore's, to the benefit of all. A huge personality who lit up a room, Raj will be sorely missed by all who knew him."
Julian Taylor-Green, Spar retailer and vice-chair of the Meridian & Welsh guild, described Raj as "not only a great friend to many, but also a champion of our sector".
"He was always ready to challenge his team, suppliers and colleagues and never failed to support us, continually sharing his honest experiences.
"By working with his fellow Spar retailers at the Meridian & Welsh Guild, he brought all his industry learning's with him to challenge and drive our collective business, trying to ensure we were always at the front of independent retailing.
"Always proud of his retail heritage, family and their achievements, Raj was a true gentleman and businessman. A huge, influential loss to Spar and the retail sector," Julian added.