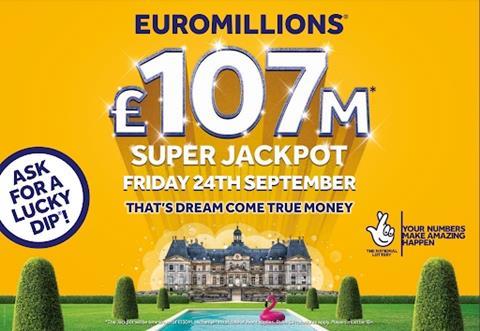 Camelot is to run two special National Lottery draws to celebrate the Olympic and Paralympic Games.
First up will be the £15m Lotto 'Must Be Won' draw on Saturday 18 September. This takes the total in special Lotto 'Must Be Won' draw jackpots to £35m in just two weeks, following the £20m 'Must Be Won' on 4 September – which rolled down and saw over 1.5 million players pick up £5 and a Lucky Dip, boosting retailer commission and money spent in store.
Less than a week after the Lotto draw, on Friday 24 September, a special EuroMillions Super Jackpot draw will see a £107m jackpot up for grabs – and will provide an expected 71% sales uplift for retailers. National Lottery retailers should have already received POS for the EuroMillions draw and should site this immediately to maximise sales.
Meanwhile, thanks to Camelot's National Lottery Retailer Hub – which offers retailers who have registered more than just cash prizes from its rewards initiatives – 25 lucky National Lottery retailers attended the ParalympicsGB Homecoming event at London's SSE Arena on earlier this month after winning tickets via the Hub.
Camelot's retail director Jenny Blogg said: "We're expecting a huge player turnout in retail for these upcoming special event draws – after what has been a fantastic National Lottery campaign in retail for the Tokyo Summer Olympic and Paralympic Games. This will no doubt lead to increased footfall and sales around the two draws, and should give retailers a sales boost as we wave goodbye to a hugely successful summer.
"I'd like to say thank you to each and every National Lottery retailer for all your hard work this year – as always, this is key to helping The National Lottery raise around £36m each week for Good Causes, including funding for our hugely successful TeamGB and ParalympicsGB athletes."