Smartphones and the apps they carry are at the heart of fundamental change in consumer behaviour. So can they work for convenience stores? We look at those currently in use in 
c-stores and the benefits they offer
In an age where you can speak to a device in your front room and it will order your favourite pizza to be delivered directly to your home, carrying a shopping basket around a store in order to buy something for dinner and paying by cash seems positively medieval.

The development of powerful, personal and portable technology as exemplified by the mobile smartphone, has changed human behaviour irrevocably, and retailing cannot help but be transformed at the same time.

HIM's Future of Convenience report identifies an emerging 'One Swipe Generation' of consumers, born in the time of Google, who expect to be instantly connected to what they are looking for, and for it to be instantly delivered on a virtual plate. But it's not a case of people in advanced economies simply becoming more selfish and demanding, above all they are getting more time-pressed, and it is here where personal technology such as phone apps can deliver for them.

As HIM observes, Britain's average daily commute is one hour and 38 minutes and rising, and people increasingly expect to use this time constructively - browsing or shopping online, for example. And when they do eventually escape from the train and get to the shops, they are less tolerant of queuing. Research shows that seven in 10 shoppers globally say a long queue would make them abandon a purchase within a convenience store, and three-quarters of convenience store shoppers in the UK want to get in and out as quickly as possible.

So it was almost inevitable that these emotions would give rise to a new generation of retail, such as the Amazon Go store in Seattle, USA, which allows shoppers who have downloaded the app to pick up their goods and just walk out, to be billed for their shopping at a later date.

Saving time is at the core of the Ubamarket app, currently being trialled at Guy Warner's Budgens store in Moreton-in-Marsh, Gloucestershire. At 10,000sq ft the store has an extensive range, which the app helps shoppers to navigate.

Consumers enter their shopping list into their phone, and the app organises the products according to where they are located in the store, mapping out the shopper's path around the outlet in the most efficient way.

Shoppers use their phones to scan products as they go, with a running total of spending visible, and at checkout the app creates a scannable QR code for the total basket. Pay by phone is not yet possible - this is coming with phase two, we are told - but loyalty points from Guy's own Taste Club scheme are collected.

Additional functionality in phase two will also see the introduction of personalised special offers for app users.

Users of the Zapper app are already benefitting from a range of exclusive offers. The app combines exclusive offers with a loyalty scheme and pay-by-phone functionality, and works by generating a unique QR code for each shopping basket, which is scanned by the customer's phone in order to pay using a registered payment card.

As well as being a convenient payment solution with personalised vouchers without any messy paper redemption, customer data can also be collected to reward loyalty or drive purchases.

An initial trial period with seven Nisa stores in the Peterborough area beginning late last year saw more than 800 Zapper users sign up, with 41% of users already exceeding the £40 required total spend to gain a £2 loyalty bonus. More than 3,500 transactions have already been carried out via the app, with a 40% redemption rate of the vouchers.

Users are more regular, and more valuable, too, with a 63% increase in weekly visits and a 35% increase in basket spend.

Peterborough store owner Sivarajah 'Siva' Theivanayagam said: "The most exciting aspect so far has been watching just how quickly shoppers respond to our direct voucher messages - some people have visited the store within 90 minutes of receiving an in-app or email notification, specifically to redeem their offer. This is game-changing for us - finally, we have found a simple tool which helps us match a name to every basket so we can reward loyal shoppers to increase basket spend and encourage a higher frequency of shopping trips."

Nisa is expected to sanction a wider rollout of Zapper shortly, with Bestway/Best-one set to launch in trial stores, too.

Loyalty and special offers are also at the heart of the Simply Fresh app, which uses location technology to allow registered users to 'sign in' with their local Simply Fresh store when they arrive.

Shoppers don't only collect loyalty points with each purchase - for an additional reward they are also entered for a prize raffle every time they sign in. The app also communicates the current offers, browsable by category, even when shoppers are not in the shop, and the next upgrade will see it offer a pay-by-phone function, too.

While loyalty is valuable, c-store shoppers do not necessarily want to wait in order to collect their rewards, and developer Bizzleit has devised an app under the name Spar GO for a new Spar store built by Driven Developments in St Helens, Merseyside. Although the store is independently-owned, the IT developers have been working closely with Spar distributor James Hall to ensure that the technology aligns properly.

Bizzleit director Michael Lawes told C-Store: "When we were approached by Spar West Park Mews, our aims were to bring a market-leading edge to Spar's tech offering to customers. The Spar GO app focuses on four key points: high street store awareness; customer loyalty and satisfaction; invigorated brand perception; and in-store offer management.

"We decided against offering points in favour of instant rewards. After all, it's an on-demand society. With Spar GO, dual pricing on select items can be created by individual stores, so that simply scanning your card or app at the till will instantly knock pricing off that consumer's shop. With this, Spar GO creates a special, more exclusive, members-only feel."

The app goes live in St Helens on 6 February, and typical offers might be of the 'Spend £20, get a free coffee in-store' type. The app also includes Click & Collect and Home Delivery options, and Lawes is working on ways to combine the Spar store's offer with those of its immediate neighbours, which include a Subway franchise, fish and chip shop and Italian restaurant.

"You can roll this out to all local businesses, so that Spar GO members can receive local deliveries or order in advance for collection," he adds.

And from a retailer's point of view, this is one of the most exciting things about phone apps and data technology: it expands the walls of the store and the catchment area.

The Premier app devised by Booker and launched at Singh's Premier in Sheffield last year does exactly this, by making products from Booker's inventory at a nearby Makro depot accessible to shoppers at Singh's Premier, in addition to the range stocked by the store. Shoppers select products from the app and either collect in store or arrange for home delivery, subject to minimum order requirements.

So in a world where consumers are increasingly looking for immediate solutions with a single swipe, it might be time for all convenience stores to consider tapping into the technology as well.
Get our app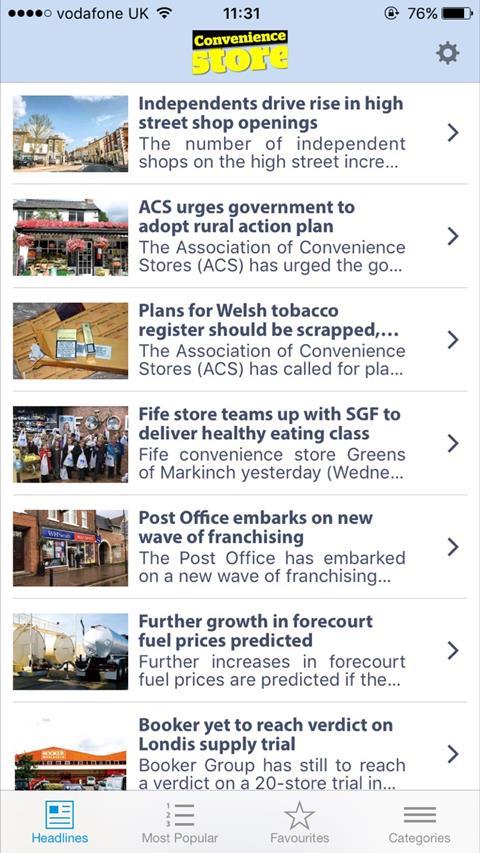 We at Convenience Storelike to be at the cutting edge of retail, so we are getting in on the act with our own app.
Our app features the latest news headlines, plus an archive of all our previous articles organised into categories, just as they are on our popular website conveniencestore.co.uk. You can use the app to bookmark favourite articles to return to re-read at a later date, or to view phone-friendly renderings of our in-depth features and store profiles. Or you can catch up with what everyone else is reading 
by checking out our 'most popular' tab.
The Convenience Store app is on the App Store for Apple devices, and also check out our digital-edition reader available from the same source. And it's all free!