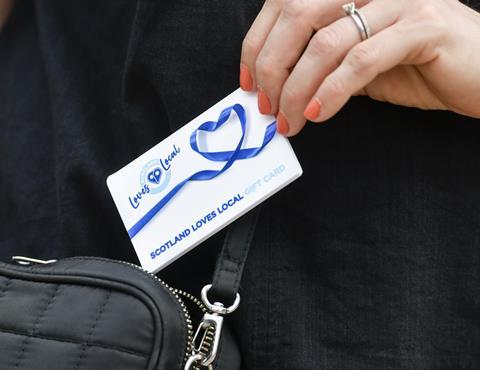 Leading Scottish retailers Scotmid, Spar Scotland and One O One Retail have signed up as merchants to accept local cards in community shops across the country.
The Scotland Loves Local Gift Card initiative is designed to boost local economies and will allow shoppers to be able to spend gift cards in stores operated in their communities.
The Scottish Government is funding the rollout of gift cards across each of the country's 32 local authority areas, led by Scotland's Towns Partnership (STP) as part of the Scotland Loves Local campaign. It is the first time that a local gift card programme has been delivered on this scale.
Each card can only be spent in the region for which it is branded, meaning it is effectively a new form of local currency. Businesses of every kind can sign up to accept the card. The only requirement is that they must have a physical presence in the region in which they are registering. Cards will become available to customers following a series of local launches expected to take place in the coming months.
STP chief officer Phil Prentice said: "We are delighted to get the support of Scotmid, Spar Scotland and One O One Retail, opening up hundreds of stores across the country to shoppers using the Scotland Loves Local Gift Card.
"Convenience stores and their staff have been among those who have been on the frontline supporting their communities throughout the coronavirus pandemic.
"Shopping with them using a Scotland Loves Local Gift Card is another way in which you can express your thanks and show your loyalty for all that they have done and show your support and confidence in them - rebuilding local economies and laying the foundations for a stronger future."
For Scotmid, also a sponsor of the wider Scotland Loves Local campaign, that could eventually involve its entire network of 179 community stores in Scotland.
Head of communities and membership at Scotmid Shirley MacGillivray said: "At Scotmid, communities are the very reason we exist. For over 160 years, Scotmid has worked hand in hand with the communities we serve, helping them prosper and improving everyday lives. That's why we're supporting the Scotland Loves Local campaign. Knowing that we can all help bring about positive change with the choices we make is embedded in our values.
"We are sponsoring the drive for people to support the businesses around them as they recover and rebuild. As a community retailer, we have witnessed first-hand the importance of being there and supporting others, particularly during the most challenging times.
Company-owned stores operations director at Spar Scotland Brian Straiton said: "As a scheme which supports local businesses and communities it was a no-brainer for us to get behind the Scotland Loves Local Gift Card. It aligns completely with our values.
"We are incredibly proud of the part that staff in our stores from Gretna to Helmsdale have played in helping their customers respond to challenges caused by Covid-19, reminding everyone of the valuable and vital part that local shops play in our communities. Anything that encourages people to shop locally, support businesses and build a better future is welcome to us."
Group retail director at One O One Convenience Stores Paul Stirling added: "Our network of stores play an important part in our communities - never more so than since the onset of the coronavirus pandemic. We are proud of the way in which our business has been there for our customers all day, every day.
"We are delighted to accept the Scotland Loves Local Gift Card in our stores. It's another way in which customers can show their support for businesses in their region. We are sure it can play a part in helping both the recovery from the pandemic and help be part of the foundations for a stronger economic future."