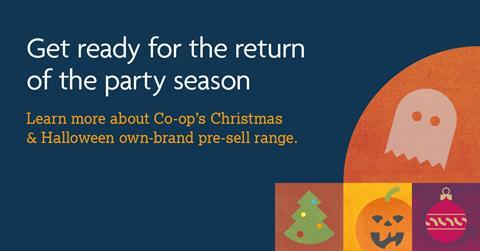 Nisa is gearing up for Halloween and Christmas with its seasonal pre-sell event.
The symbol group is urging its retailers to focus on the future and plan for the next seasonal sales opportunities with the launch of the Halloween and Christmas pre-sell event. Its marketing team has created a digital platform for its seasonal campaign, building on the success seen for its Summer Launch event.
Designed to help partners learn more about Co-op own brand ranges available as part of the pre-sell, the digital platform will host a series of short videos delivered by the Co-op Food development team who give background and insight into the trends that have shaped the ranges, the innovation available this year and key lines partners should stock.
Building on the back of the Summer Launch this is again a first for Nisa partners for a pre-sell event to be supported in such a way and Nisa hopes retailers will find "valuable support and information at the touch of a button that sets them up for a profitable and successful autumn season of sales".
A similar support event will follow later in the summer for the fresh Christmas pre-sell.
Co-op brand planning and communications manager (wholesale) Jonny Lambert said: "Last year Halloween and Christmas were celebrated very differently because of the pandemic and social distancing measures being a priority.
"The success of the vaccine roll-out means this year people are looking forward to celebrations more than ever and we want to arm Nisa partners with everything they need to make the most of it and unlock the trading opportunities.
"Along with insights and category information from the experts, Nisa partners can scroll through all the different categories for both seasonal events and select the products they want to have in stock in their stores later this year.We're really excited to be sharing a fantastic range including a great selection of NPD."