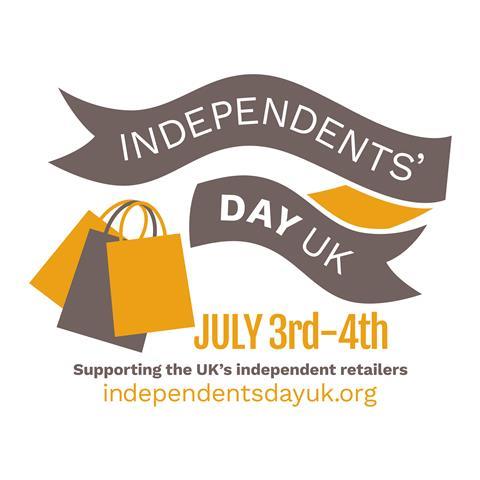 Independents' Day UK takes place on 3 & 4 July and this year, the campaign's organisers are asking consumers to 'pledge a few pounds' to independent retailers, by spending at indies across the weekend.
Spokesperson for Independents' Day UK Howard Robinson said: "The British independent retail sector has shown real resilience in the face of the Covid-19 crisis across the last year, operating through extreme uncertainty and putting on a brave face for their customers and wider communities.
"We are asking the public to show their thanks by simply heading out across the weekend of July 3rd and 4th and spending a few pounds at an independent, or locally-owned retailers."
Independents' Day UK is supported by the British Independent Retailers Association (Bira), the Independent Retail Consortium (IRC) and the Association of Town and City Management (ATCM).
CEO of Bira Andrew Goodacre said: "Independents' Day will soon be with us again – this time better and over a whole weekend. This year is probably the most important year for indie retail, as businesses look to rebuild following the pandemic.
"The money spent in local, independent shops makes a real difference to business owners and the local economy, so it would be great if the general public could support this campaign and spend more at independents."
The Independents' Day campaign team estimates that last year, over 8,500 small shops across the UK engaged with the campaign – and is hoping that figure will reach at least 20,000 this year. Around 100 different town management teams, business improvement districts (BIDs), chambers of commerce and local business groups across the country participated in initiatives to promote the day.
To help support UK Independents' Day UK this year, Nisa has planned activity across its digital and social channels.
The social media campaign will target both B2B and B2C audiences with messages that support and celebrate independent retailers as well as educate consumers about the relevance of independent retailers and the role they play in communities across the UK. A range of digital assets will also be available to Nisa partners for them to use on their own channels and help promote their independence with their own customers.
Nisa head of retail Victoria Lockie said: "It's important we support campaigns like this because it links with our purpose and is why we're here today. Nisa was founded to support and help independent retailers to thrive and that is still true to this day.
"We've seen how incredibly versatile and agile Nisa partners and indeed all independent retailers are in the ways they've responded to the Covid crisis and found solutions to any number of problems that have come their way.
"UK Independents' Day is a great opportunity to raise awareness, celebrate and express our gratitude to independent retailers for the fantastic contribution they make to communities everywhere."