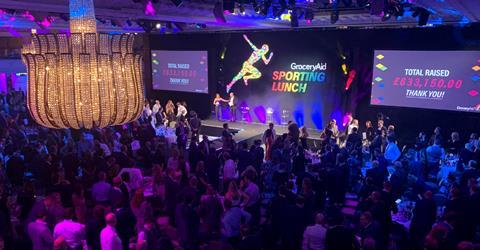 GroceryAid's annual Sporting Lunch returned to raise a record £633,000.
This year's Sporting Lunch took place at Grosvenor House, London on Friday 12 November 2021 with more than 1,200 colleagues from 198 companies in attendance.
It raised more than £633k on the day, through tickets sales, donations and 24 sponsors.
"We are delighted to have raised such a phenomenal amount of money and grateful for the support of companies throughout the industry," said GroceryAid CEO Steve Barnes. "Demand for our services is accelerating rapidly. In the last six months, we experienced a 120% increase in applications for financial support and a 52% increase in calls to our helpline, compared to the whole of last year."
Hosts, Natalie Pinkham and Mike Tindall MBE led the day which included interviews with Sir Geoff Hurst MBE, Helen Glover, Kate Richardson-Walsh and a final Q&A panel with James Haskell and Sir Alistair Cook MBE.
The event also welcomed sporting talent including Baroness Tanni Grey–Thompson, Alex Dansen, Chemmy Alcott, Dion Dublin, Don Hutchison, James Cracknell, Jazmin Carlin, Kelly Smith, Lewis Moody, Monty Panesar, Robbie Savage, Ryan Sidebottom and Steve Davis.
At the lunch GroceryAid president Charles Wilson also introduced 'Ricky's Story': a film depicting the positive impact that GroceryAid support had on an HGV driver's life.
Ricky's Story_Subtitled.mov from GroceryAid on Vimeo.